Taylor River Trail
April 19, 1998
We hiked along the Taylor River trail mostly as a scouting expedition to determine if it would be suitable for a BoBaby outing. The last time Maren and I had walked along this trail, we'd been on our way to Snoqualmie Lake, and the trail had been criss crossed with multiple blowdowns. they weren't difficult to get over, but if we were to suggest an outing for parents with toddlers, a bunch of blowdowns to cross is less than desireable. Fortunately, we found that the trail had been completely cleared of trees - it wasn't smooth enough to bring strollers on, but hiking with little ones in a backpack would work out just fine. We walked the trail just to Marten Creek, then backtracked a few hundred feet to find the unmaintained path that leads up to the falls above. Though a little hard to follow in places, the trail generally worked its way upstream, now and then moving close enough to the creek to give nice views of the falls.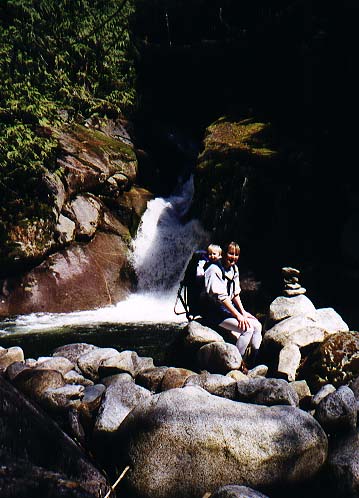 Bryden and Maren by falls on Marten Creek
Needing to be back in Seattle in the early afternoon, we turned around and followed the creek closely back downstream, doing some boulder hopping, and a little fallen log walking. We added some rocks to a tall, thin pile near the base of the lowest of the falls, and then dropped back down to the Taylor River trail, and stopped on the old wooden bridge over Marten Creek for a quick bite to eat. Misjudging the time a bit on my part caused the trip back to the truck to be made at a "forced march" pace, as Maren put it, covering the three miles out in under an hour and with no breaks. Bryden fell asleep in the backpack during the last miles, and although he woke briefly when we got back to the truck, he slept soundly most of the way back home.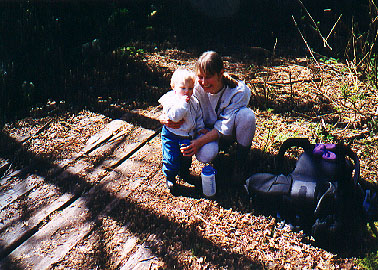 Lunchtime!
---
Last updated: February 4, 2003