Climbing at Skaha, British Columbia
July 2-6, 1998
We headed back up for our second trip to Skaha over the long 4th weekend - the previous trip over Memorial Day had been such a blast, we were happy to be trying for a repeat of the fun! This time we coordinated with 3 other couples, so we'd have 8 adults and 4 toddlers - it would still be a challenge!

We took the toll highway north just after Hope for the first time - what a beautiful drive - certainly worth the Canadian $10 each way. One of the most stunning views is that of Yak Peak, just north of the toll plaza - it looks like it belongs in Yosemite, not in the middle of British Columbia.

We once again stayed at the Rochester Resort in Penticton for our base of operations - nothing fancy, but good rates, and right across the street from the beach on the south end of Okanagan Lake - a real plus for the kids!

Thursday turned out to be quite stormy, with a strong windstorm blowing through that knocked down trees and power lines here and there - not a good sign for beach lazing or climbing! Friday's weather was better, but not good enough for climbing. A pretty spectacular thunderstorm capped off the afternoon, and we sat in the front room of our suite watching it sweep across the lake. The first two days were certainly not total losses - by taking shifts with the kids (4 adults watching 4 kids each shift) we managed to go out for a great Italian dinner at Mambo's Thursday night, and we explored the used book store in town on Friday, as well as getting in a little beach time before the thunderstorm blew in.

Saturday the 4th was the first really nice day - nice enough to head out to the cliffs! We started at "Another Buttress", and set up ropes on "Hair on a G String", "Like It in Her Panties", and "Lichen in Her Panties", a fun 5.6, and 2 great 5.8's. After taking our turns climbing, belaying and baby sitting (and surprising a few folks who wandered into our "day care" center at the cliffs!), we headed up for "Red Tail South". The area is large enough to give the kids room to roam a bit, and it has two great 5.10a's - "Basic Black" and "Facility". "Basic Black" was my first 5.10a lead ever, although I hung a couple of times before pulling over the bulge, so it wasn't clean. I then moved over to "Facility" and got my first true 5.10a flash - no falls, no hangs - I was pretty thrilled! That was about all the time we had for one day - the kids were starting to get cranky, and moving 8 people through all those climbs takes some time! We headed back to town, stopping at the local Overwaitea (trivia: it's pronounced Overway Tea - the founder's name was Overwai, and it originally was just a tea shop) to stock up on brats, buns, potato salad, melons and all the rest of the fixins for a 4th of July BBQ and picnic. The Rochester Resort has grills on the porch, and we snagged one of those and proceeded to grill up a proper Independence Day feast! Mixed with a few margaritas, it was a smashing success!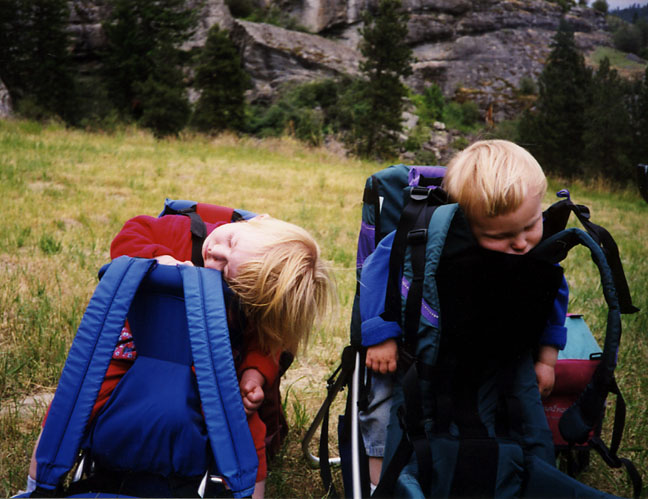 Tuckered kids (Liz on the left, Bryden on the right) after a hard day at the crags!
Sunday started just a nicely as Saturday had, so it was off to the cliffs again. This time we headed a little further out, and climbed at "Grassy Glades". We were a little more tired than we realized from the previous day's climbing and celebrating, so we only did a few routes - "White Knuckle Express" (5.8), "Professional Belay Slaves" (5.8), and "Short Claim Jumpers" (5.10a). The long walk to the crag got us started late, and the kids didn't seem to be having as much fun as they had the day before, so we left a little early and headed out to the beach for the rest of the afternoon. We did dinner in shifts again that evening, and had a nice, quiet, child free dinner at a little seafood/Caribbean place, Salty's Beach House, just a half block from the resort.
Monday was a travel day, but I wanted to get one more climb in. Skipping breakfast, David and I headed out for Skaha early, and jumped on "The Plumline" (5.9) - what a beautiful climb! Its picture is on the front cover of the first Skaha guidebook, and was rated 5.10a at the time - I think 5.9 is closer to correct. Enough bolts to not be scary, spectacular views, and a fun pullover at the top with a "hero shot" setting - I think this will be a route I'll repeat several times!
After finishing the climb, it was time to head back to Penticton and get packed up for the trip home. We headed for home a little before 1:00, and Bryden cooperated by falling asleep for the first three hours of the trip. The border crossing at Sumas went quickly, and we were home by 7:30 - another great trip!
---
Last updated: September 3, 2005