Thinking it was probably time for a nap for Bryden, we got back in the car and started driving towards the SE entrance of the park. We took the drive nice and slowly, and sure enough, 5 minutes after leaving Paradise Bryden nodded off and slept pretty much the whole way to the Stevens Canyon entrance. Once there, we turned around and pulled into the parking area for the trail that goes to the Grove of the Patriarchs, just 100 yards or so inside of the park entrance. This was another great trail for Bryden, about 1 1/2 miles long again, and with 160 feet of elevation gain. We walked along the trail for a ways, ducking under fallen logs and looking down at the Ohanapecosh River here and there until we came to the suspension bridge across the river over to the island where the big trees were. Bryden was a little leery of the suspension bridge, and made sure I went all the way across first so I couldn't jump up and down while he was crossing and make the bridge bounce!

They're doing some wonderful upgrading of the trail around the island, raising it off the ground (and off of the roots of the trees) in most places, so there's a very nice boardwalk to stroll along. The size of some of the trees are just unbelievable! The grand daddy of them all is almost 50 feet around at the base - Bryden was very impressed! We walked down to the river on the other side of the island and spent some time throwing rocks and sticks in the water, something Bryden can do for hours without getting bored!

On the way back, I convinced Bryden that a group of hikers that was a little behind us were really monsters chasing us, and he decided we had better run all the way back to the cars. After we crossed the suspension bridge again, and climbed the short hill back up to the main trail, that's exactly what we did, all three of us running as fast as a 3 1/2 year can, back to the parking lot - Bryden's got very strong legs!

It didn't take long after we got in the car and started driving for Bryden to fall back asleep again - it had been a pretty big day for him with lots of exercise and fresh air. That worked out just fine, because by the time we had driven half way up from the Stevens Canyon entrance to the White River entrance, we hit the rains that had been forecast for the day, and we were in dark clouds and rain all the rest of the way home!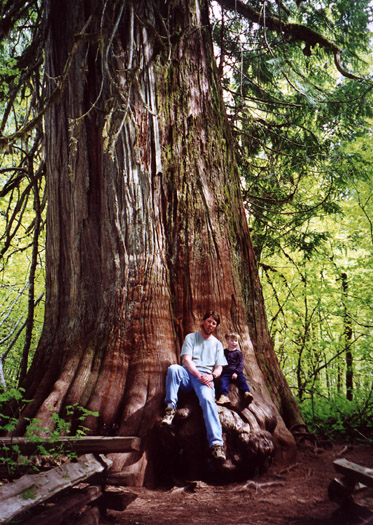 Bryden and Matt sitting on the trunk of an ancient and huge cedar tree