Mt. Pilchuck
August 9, 1998
This was our first trip up Mt. Pilchuck - it was Seafair Sunday, and I was hoping that even with beautiful weather, the crowds would be at the hydroplane races. From the stories I've heard others tell, the 30-40 people we ran in to on the trail was nothing compared to a typical sunny August day, so I guess I was right!

At the parking area, we stopped to admire the view of Three Fingers - Maren and I had climbed to the fire lookout on the south summit of Three Fingers in 1995.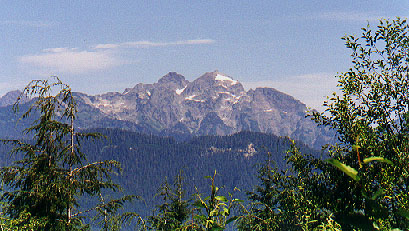 North and South summits of Three Fingers. The lookout is on the south summit.
The trail starts out in pleasant forest, keeping things relatively cool. I was expecting most of the trail to be like this, since at only 5324' Pilchuck should barely reach into the alpine regions. I was very pleasantly surprised when we rounded a corner of the trail, and the terrain changed from alpine forest to exposed granite slabs, something straight out of the Sierra Nevada. I started understanding here why this trail was so popular!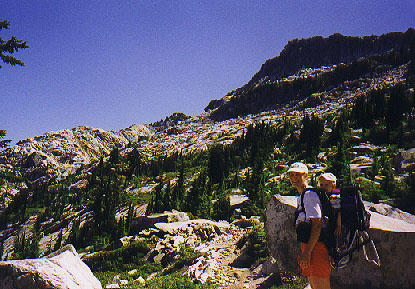 Granite boulders and summit ridge of Mt. Pilchuck
There is significant trail work being done from here to the summit, not all of which seems a good idea, in my opinion. Several places now have concrete steps along an area you could walk granite slabs instead. I'm all for keeping a trial in good shape, but this seems a ridiculous waste of time and money when there's plenty of trails that have logs across them, or could use a good brushing. Ah, well, I suppose some trails need to be "sacrificed" to the general masses, and with its location, I guess Pilchuck belongs in that sacrificial category.
We found a large boulder to sit under just below the summit and have lunch out of the sun. Bryden enjoyed the attention of several dogs investigating his lunch as they wandered around the summit area while their owners climbed the final few feet to the old lookout. Now and then a territorial dispute would break out between some of the dogs - I'm all for taking well behaved dogs on the trail, but maybe tying them up (or leaving them to roam free) while the owner climbs to a summit isn't quite the responsible thing to do.
After lunch, we took Bryden up to the lookout tower, and spent a few minutes admiring the views all around, from Mt. Baker and Shuksan in the north, to Glacier Peak and it's neighbors on the east, down to Mt. Rainier in the south - truly a wonderful viewpoint! On the way down we stopped now and then to sample the huckleberries, which were just starting to ripen. These were Bryden's first huckleberries, and although he proclaimed them "sou-sou" (sour), he very quickly started asking for more - I guess he takes after his mother in this respect!
---
Last updated: April 3, 2001