Skiing in the Methow Valley
February 6-7, 1999
While not everyone originally intending to show up made it (the flu, and icy pass conditions kept two families home), we still managed to get 5 adults and two 2-year olds over to Winthrop for a stay at J&D's Guesthouse, and a little Nordic skiing. The pass conditions over Snoqualmie were indeed miserable, but Blewitt wasn't too bad as we headed over Friday night. We got to the Guesthouse around 9:00, where Rob, Cathy, Richard and Lizzie had already been enjoying the good snow conditions, if not great weather.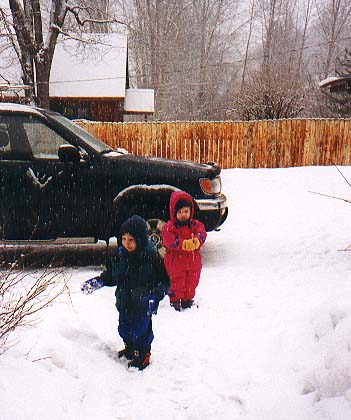 Bryden and Lizzie playing in the snow outside of the guesthouse
Saturday morning started out with pancakes, bacon and eggs (thanks Rob!), and then a drive over to Wolf Ridge Lodge to see if more of our friends might have made it over that morning - they didn't, so after a quick stop in town for some day trail passes ($14 per person per day), we loaded up the vehicles and headed to the end of the road (at this time of year at least!) to ski some of the trails in the Mazama area. Rob and Richard took off to do a long loop (Jack's Trail and River Run) with Rob skating while Richard tried to keep up on track skis - needless to say, Rob was back quite a bit before Richard! I had some new boots and skis to try, so I started with a little 45 minute loop just to see how things worked - the shorter (195 cm instead of 215) backcountry skis instead of my old track skis, and stiffer boots made a huge difference over what I was used to - it may be time for some new XC gear! Maren and Cathy had first shift with Bryden and Lizzie and kept them entertained with napping, playing in the snow, and "driving" the trucks. Rob got back shortly after I did, so we spelled the ladies with the kids, and let them head off to do a short loop along the river.

Bryden after just spilling his cup of cocoa in the back of mommy's car
After everyone was back at the cars, we headed over to the Mazama Country Inn for lunch, and then a little more skiing on the flat meadow by the Mazama Ranch House. Bryden got to ride on Maren's back this time, and was asleep in less than 5 minutes - all that playing in the snow had worn him out, I'm afraid! We skied a nice long loop, then headed back to the Guesthouse for dinner.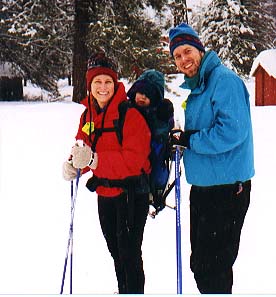 Getting ready for a XC ski loop - Maren, Bryden and Matt
Sunday morning, after a pancake breakfast (thanks again Rob!) we walked across the bridge to the start of the Methow Community Trail. I was trying yet more new gear - skating skis this time! Loads of fun, but what an aerobic workout! I think I'll probably stick to the slower, but calmer, backcoutry skis for now. We still managed to head out for 2 or 3 km before turning back - the sole of one of Maren's boots was starting to detach, and I was just plain tired after skating that far! We also wanted to get an early start home so we could clear the passes before dark (that didn't quite work out, but that's another story!), so back we skied to the trailhead, and then a quick lunch at the Duck Brand Inn (yummy!) before heading for home.
---
Home | Send email to Matt Robertson | Last updated: April 2, 2001