Rock Climbing at Mazama
September 25-28, 1999
We're back!!! After the blast we had climbing here in June, we were looking forward to our return trip, this time with the added bonus of a guided tour of some of the new crags Bryan Burdo was working on. As I mentioned in the previous trip report, if you're going to be climbing in this area (or anywhere around Washington Pass for that matter), you really should pick up a copy of his guide book "North Cascades Rock: Sport and Alpine Routes". Tons of good info in there, and the most complete coverage of the Mazama rock scene. We again made our reservations at the Mazama Country Inn, but they were full up for the first evening we were going to be up there. No matter - there's plenty of cheap and free camp sites around so we tossed in tent and sleeping bags as well as climbing gear and headed up north, this time bringing Bryden along with us. On the way over Washington Pass, we noted that there was already new snow down to the road level - summer this year sure was short!
The weather wasn't perfect, so we ended up hanging around at Bryan's parents place for most of the morning waiting for things to warm up. Once the sun broke through the clouds, things did warm up nicely, and we headed for one of Bryan's new crags, "The Blue Spot". It's about a 15 minute walk from Fun Rock, and gets its name from the gorgeous blue limestone that the climbing is on. As you approach, there's this great spire that looks like the head of a bear with its snout raised in the air sniffing. I'm sure there'll eventually be a hard route up underneath the throat of the bear - it's too cool of a line not to! There were plenty of flat benches a ways below the cragging area for Bryden to play, but the final 50 yards of approach is pretty steep. It'll be better once a proper trail is put in, but for now it was a bit much for carrying a 2 1/2 year old up to!
There's only a couple of routes bolted so far, and Maren and I each got a chance to check them out and give Bryan some feedback. The first route I tried was a wonderful 5.6 running right up a gently angled spine of rock for a full 25 meters (a 60-meter rope might be a good recommendation for this crag). I then moved over and checked out a 5.9 line just left of the 5.6. Plenty of featured rock, and one small bulge to overcome at the crux made for another fun route that finished a little easier than 5.9. After that, Bryan lowered me down just to the left of the 5.9, and asked me to try another line he hadn't bolted yet, but that he thought would go at about 5.8. I worked my way up most the route, with it feeling like it was 5.8ish, but the final 15 feet or so to the top got distinctly harder. I traversed back and forth trying to find an easy way to get my feet up top, but everything I found was too thin or too steep to really be 5.8. By working back to the top of the previous 5.9, however, a 5.8 finish was definitely possible - the two routes might have to cross at the top to maintain a consistent difficulty rating, or maybe each will have an optional finish, 5.8 or 5.9. Since we'd started out kinda late that day, by the time Maren had a chance to climb the routes and give feedback it was time to head down. We drove into Winthrop for dinner, and drove by a large range fire on the way. Bryden was quite excited to watch a helicopter with a water bucket trying to douse the flames, and since it didn't seem that any people or buildings were in imminent danger, we were able to stop and stare at the fire, and be impressed by what we saw, rather than be worried for anyone's safety. After dinner we headed back out to Mazama and up the Lost River Road. A few miles after the pavement ends are two very pleasant campgrounds, and we called one of them home for the night.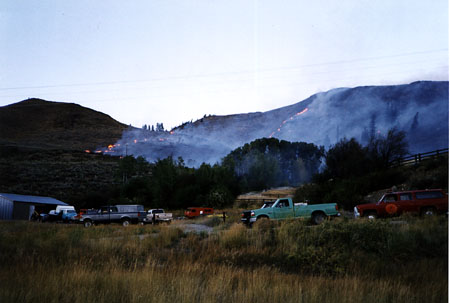 Brush fire between Mazama and Winthrop
With a little rain overnight, Sunday dawned a bit damp. Figuring the rock would be too wet to climb for a while, we had a leisurely breakfast, and Bryden and I took a short walk down by the river flowing through the camp ground. Sticks, rocks and moving water are enough to amuse a 2 1/2 year old for hours, and I had no problem entertaining Bryden while we waited for the sun to show itself and start drying things out. We eventually broke camp and headed back to Bryan's folks' place to hook up with him. With the way the weather was, Bryan suggested heading up to an area by Robinson Creek called "Prospect Point". With streaks of white and orange rock looking like gold and silver, I can understand the name. After he described the base of the crag, Maren opted to take Bryden on a hike rather than climb that day, so Bryan and I headed up the 15 minute approach to the crag alone. Along the way we startled two deer sleeping under some trees. Our trail went right through the deer's sleeping area, and stopping to put my hand where they had been laying just minutes before I could still feel their warmth on the ground - pretty cool! A few steep minutes later brought us to the base of the cliffs, and Bryan showed me where some of the lines he and others have put up go. The routes he wanted to check out this day were near the far right end of the crag, and we started walking up a ramp that led to them. The ramp is about 2 feet wide, but it angles its way up steadily until you're quite a ways off of the ground. At one point the cliff bulges outward, cutting your 2 foot ledge down to just a few inches. It's one of those places that were it on street level you wouldn't think twice about it, but 40 feet off the ground and nothing good to hang onto, I had to stop for a few seconds, suck in a deep breath of bravery and steadiness, and step around the bulge. Once past that spot, the ledge stays reasonably comfortable, but by the time we were at the base of our climbs, we were 60 feet off the deck! A whole pitch of climbing below us, and we'd just walked to there - very cool! A necessary bolt for the belayer allowed me to relax once I had my harness on and was clipped in, and Bryan led up a route of his that he was hoping would go at 5.8. The route was fun, but even on top rope I whimpered at the crux, causing Bryan to think that it might be a 5.9, or at least a 5.8+. The next route we did (he led again) was just left of the first, and he thought it would go at 5.10a. This is one of the best routes I've ever climbed! It starts off immediately with a small bulge and fairly small holds for both hands. Putting this together with the fact that as soon as you move your feet up on the climb, your butt's hanging over 60 feet of air gives this route an awesome feeling of exposure! The route features bulges, traverses, slab work, thin edges and huge jugs - an incredible variety of climbing for a single pitch climb! I managed to avoid the crux by an interesting traverse and slab, causing Bryan to think that instead of 5.10a, this route might go at 5.9. Ah, well, two stellar 5.9's instead of a 5.8 and a 5.10a - nothing to scoff at! The heavy clouds that had been threatening all morning finally started to let loose with some hail. We hunkered down with our jackets covering up as much of us as we could manage, and just marveled at the view outward from the crag. The tips of the Washington Pass peaks were just barely in view, the river that carved the valley below us meandered back and forth, the stunning orange and white rock of the crag surrounded us - all in all and awesome place to be! We chatted away the time, marveling at where we were and talking about the huge number of other possible lines at the crag. Eventually, though, we gave up before the weather did, and we started working our way back down the ramp to the road. On the way we saw a small rockfall just in front of us - a few small pebbles and a hardball sized rock or two. At the end of this rockfall, there followed something brownish and falling in a kind of feathered way. We looked around the rocks when we got to the spot the rockfall had impacted and couldn't see anything that looked brown, so I'm not entirely sure what it was that I saw. However, Bryan said he had found the body of a ground squirrel at the base of this cliff before, and more than anything else what I saw looked like it had a brown tail spinning behind it. The squirrels certainly run all over the area around there, and wouldn't be hard for me to believe that now and then one takes a misstep and plunges over an edge. Still, we didn't see any little brown bodies in the rocks there, but if I had to guess, I think a squirrel up above us slipped on the ledges slippery with hail, and fell to its death right there in front of us.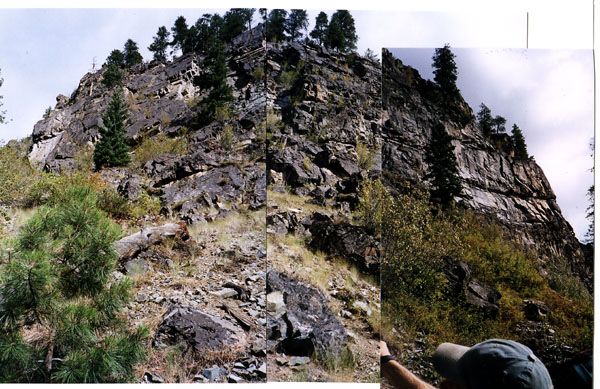 Prospect Point
After getting back to the cars we agreed that there wouldn't be any more climbing this day. We hooked up with Maren and Bryden, dropped Bryan off at his place and headed off to check in to the Mazama Country Inn. We'd stopped by the day before to see if there had been any cancellations that would allow us to check in a day early (there hadn't been), and I'd been able to smell the barbecued ribs cooking. That aroma had been with me all day, and I was most anxious to get checked in, cleaned up, and over to dinner. The ribs didn't disappoint, and the fresh rhubarb pie for dessert was most excellent!
Monday turned out to be the best weather of the whole trip - warm and sunny the whole day! We didn't exactly trust the weather, though, so we decided to spend the day at Fun Rock. There were a bunch of climbs we'd wanted to do in June that we just didn't have the time for, and Bryan wanted to try out a new cleaning tool he'd cobbled up, so Fun Rock seemed like the right place for the day. We started out doing an alternate second pitch on "Cream" that goes at 5.9. It's kind of strange - pitch one is full of small edges, but just when you get used to that, the start of the second pitch is all smooth and rounded, requiring a complete change of gears. Soon the climbing gets back to more typical "Rhino Rock", though, and 30 meters after you started the first pitch of Cream you come to the second set of anchor bolts. After lowering and Maren getting her chance on the climb, we moved over to Steppenrčf, a 5.10b problem with two roofs in it's short single pitch. The first roof is pulled at 5.10a, and the second at 5.10b. I'd looked longingly at the route in June, but didn't have the courage to lead it. Bryan was more than happy to give us a top rope on the route, and show us the key beta. So I didn't get an onsight flash of the route - it's still a real blast! Interestingly, even with the beta, I had a lot more problems with the first "easier" roof than I did with the second. Maybe it was a height thing or something, but the 10b section just felt a bit easier to me. From the top of the climb, I continued on up "Drive By Nose Job", a fun 5.9 that climbs right up the face of the "Mazama Tiki God" - tons o' fun!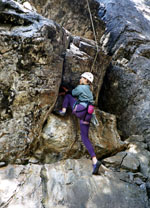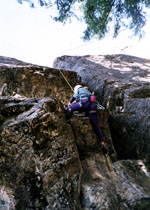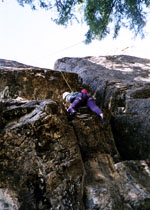 Maren climbing Steppenruf, 5.10b
| | |
| --- | --- |
| After Maren's turn on the climb, we moved around the corner to the left, and I gave Bryan a belay on "Arapilesian Dog", a fabulous 5.12a that I can only hope to someday aspire to. Since neither Maren nor I were up to following this route, even on top rope, Bryan had to climb it a second time to clean his gear. I was glad he had a chance to actually climb something that made him work a little, and it was an excellent opportunity for me to watch someone climbing so easily at that level. | Bryan Burdo cruising Arapilesian Dog, 5.12a |
We took a little lunch break after that, and chatted with a few gals that had shown up to climb. Two of them were starting to lead "Snakefingers", and Bryan made sure they realized what a funky lead it was. They didn't seem entirely comfortable leading the climb, and were more than happy to move over to Cream and then set up a top rope on Snakefingers. Since they were looking for some crack climbing, Bryan recommended a 5.10b around the back side of Fun Rock. They eventually disappeared that direction, and when they got back they thanked Bryan for his recommendation. Meanwhile, we moved up to the Sunbug Slab portion of Fun Rock, and climbed "Gridlock" (5.10b/c). Bryan led this and gave us a top rope, which I was glad of. The first bolt is a ways up, and while the terrain was easier than 10b up to the bolt, I'm still not in the habit of free soloing 5.8ish rock. This is a great climb, though (and easily top roped), with more holds than you could possibly use! The trick was finding a hold that was good enough without taking too much time looking for the best hold. It's just steep enough that if you look to long, you'll be cooked at the crux! We then moved back down to the shady portion of Fun Rock and Bryan set up a top for Maren to try "Kids Nowadays", a 5.10d/11a. Maren took a little while experimenting with the crux move, but eventually found the key and moved through it. It was her first 5.11 on an outdoors route, and she was pretty psyched! As long as we had the rope up there, we dropped it over to the unnamed 5.10c/d route, so I could try something that would stretch me a bit. My concentration wasn't what it should have been and I ended up hanging once at the crux. Maren decided to give it a go, though, and at the crux she avoided the standard moves, finishing straight up instead. Bryan wasn't sure, but he thought that was probably about 11a as well, giving Maren two 5.11's in one day! Fingertips, legs and arms were pretty well shot by that point, so we agreed to call it a day. We had another fabulous dinner at the Mazama Country Inn (smoked salmon fettucine) to put a great cap on a fabulous day.

Tuesday's weather looked like it might be okay, and with Maren deciding she'd had enough climbing for one trip, Bryan and I headed up to do the Methow Inspiration Route on Goat Wall. This route has been on my "wanna do" list for over a year now, and I was excited to finally get a chance to try it, and with an almost guarantee of success climbing it with Bryan. We skizzled on up the approach, arriving at the first bolts on about a half hour. The weather kept looking like it could change on us, but with an easy bail option (you rap the route) we decided to head up as far as we could. The route is an awful lot of fun, but the bolting was not done well. The crux moves of pitches 1, 3 and 4 are all very poorly protected with bolts either just a few feet too low or just a few feet too high. Considering how all the other bolts were on this route, moving those three bolts would drastically improve things, and keep the whole route in the character of a fun and safe romp up 450 feet of fun climbing, rather than making everything except the cruxes pretty mellow. Route finding is pretty straight forward, with the next bolt almost always easy to spot from each clip. There's a nice pseudo-hanging belay for the third pitch that allows you to hang out and marvel at the scenery below your feet and the raptors grabbing updrafts around you. You can check out the buttress next to you with its climb "The Promised Land", and look west along the crag and marvel at how much untouched rock is still waiting there. The crux of the route (for me) came at the last bolt below the final belay. The route is rated 5.9+, and arguing over the difference between 5.9+ and 5.10a seems kind of petty, but it felt pretty tough to me. This is one crux, however, that has a bolt just where you want it. On the other hand, getting up to the crux was really kind of run out, and I think it would easily make most 5.10a leaders get the shakes. I was quite happy to be following Bryan through here, and he made it look easy, even though he never put on climbing shoes and did the whole thing in running shoes! It took us just 2 1/2 hours to get to the top of the 5 pitches, and we spent some time after that scrambling up higher and gawking and admiring where we were and the rock around us. Maren and I still had to drive back to Seattle that day, though, so we couldn't do a really long summit hang, and after a half hour or so, we started down. With a 60 meter rope we were back down in 4 raps, and, after stopping for just a bit so Bryan could check out a little more rock that he wanted to bolt some lines on, we scree skied back down to the road. A note here that really applies to all the areas we climbed at this trip - trekking poles are a real asset on this terrain. Lots of steep and loose scree everywhere (well, not at Fun Rock) make you really appreciate having a little extra stability on the way down, and it doesn't hurt on the way up either.

We got back to Bryan's place where we were meeting Maren just when we said we would, so Maren didn't have any chance to start worrying about us. After thanking Bryan's parent's for letting us use their house as a rendezvous spot, and for helping entertain Bryden, we hopped in our car and headed for home. Bryden had had four pretty big days in a row, and fell asleep just before we hit Washington Pass and slept soundly until Marysville. A quick stop for some junk food for dinner, and we were home by 9:00, just barely a four hour drive.

We still didn't get to see all the crags Bryan has been working on, and the crags we did get to see, we just barely sampled. I've talked to Bryan since then, and he's already put in more bolted lines, and is hoping to really get busy there next year. With the quality of the rock, the quality of the routes, and the beauty of the area, if Bryan gets in even half the routes he's planning, Mazama could easily become a sports climbing destination area for the Pacific Northwest. We're already planning for at least two more trips back there next summer, and I'm sure we'll be back up there again this winter for some cross country skiing. Mazama is a very cool area, with access to really wonderful recreational opportunities - skiing in the winter, sport climbing in the spring and fall, and some fabulous alpine climbing 20 minutes away at the Washington Pass area during the summer. If you haven't taken the time to explore the area yet, treat yourself to a long weekend or a week - I'm pretty impressed with the area for doing the kind of stuff we like to do, and if you've read through this trip report, odds are you'll really like the area too.
---
Home | Send email to Matt Robertson | Last updated: April 2, 2001