Mt. Forgotten
August 15, 1998
The original plan was to climb Sloan Peak this weekend, but with poor weather forecast (including thunderstorms), and Sloan's reputation as a bad weather magnet, we decided over breakfast to do an easy day trip instead, and chose Mt. Forgotten as our destination.

We didn't get to the trailhead until after noon, but there were only a few cars parked there, so we were sure not to have to worry about crowds. A brisk pace was set for the first two miles to a nice stream overlook where we stopped for a quick snack and water. There were a few folks here, including one father and son duo who had set up their tent right in the middle of the trail. There were plenty of good tenting spots in the near vicinity, so I guess they were just novices at being outdoors, and didn't really know what they were doing. Maybe they figured that by paying a $25 trail access fee they owned the whole trail!

Anyway, the third mile of trail starts to steepen, eventually leading to a high meadow, and a cleared patch of ground with fine views of Mt. Forgotten.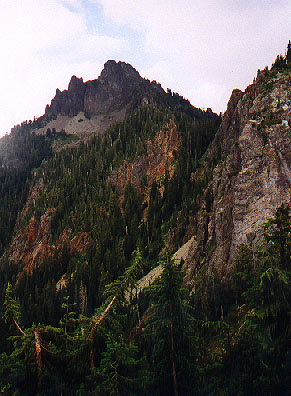 Mt. Forgotten from the southwest
We stopped here for a second quick lunch, then continued on to the meadows where the official trail ends. From here a climber's path drops down into a gully, shortly providing views east down a beautiful little valley.

| | |
| --- | --- |
| | |
The path continues on, contouring around the east side of Mount Forgotten, eventually reaching a small plateau and tarn on the north side. This would be a wonderful place to spend a night, and there should be great views into the Glacier Peak region and North Cascades, but some low clouds kept our views fairly localized. From here, we climbed a steep, loose gully (somewhat reminiscent of Headlee Pass) onto the north alpine shoulder of Forgotten. A steep but easy to follow boot path lead from here to the summit rocks. We found the summit register amid one rocky outcropping, but the true summit seemed to be about 15 feet away, requiring a short, somewhat exposed, knife edge "skootch" to get to. Most in our group called the register rocks close enough, but a few of us were determined to sit on the mountain's high point and worked our way carefully out to it.
The clouds were dropping and starting to move in, so we spent only a short time on the summit. On the way down, an alternate trail was followed that allowed us to avoid having to descend the scree filled gully, dropping instead directly onto the east flank of Mt. Forgotten. The tread disappears well before rejoining the climber's path, and I'm not sure I could find it again on the ascent, but it was an nice option to use over scree skiing!
With the clouds settling in, and with out exit through a valley, we knew we'd be loosing the light early, so we again set a brisk pace back down the mountain. We made a quick detour just before regaining the official trail to a promonotory overlooking the summit rocks - it almost looked like there might be a way to follow this ridge directly to the summit, but it would involve a lot of scrambling.
On the way down we played "Name That Plant" as the dusk started catching up with us. We got back to the cars and were on the Mountain Loop Highway just as the first rain squalls blew in, and headed back to Everett for a late Mexican dinner.
---
Last updated: April 3, 2001