Mt. Dickerman
September 5, 1998
101.5 - that's what the thermometer measured when I took my temperature this Saturday morning. I contemplated staying home and getting some much needed rest, but the weather was lovely, and the huckleberries were calling. Several ibuprofen later Maren, Bryden and I loaded ourselves into the James' van, and we headed up to the Mountain Loop Highway. I figured ibuprofen could be used to control a fever, and that's all I felt like I had, so as long as I took it a little easy, I should be all right.

I looked for the new parking area as we approached Mt. Dickerman, but saw it was still closed, so we headed down to the wide spot in the road that serves as a parking area for this Mt. Si of the Mountain Loop Highway. Surprisingly, although we saw completely full camp grounds all along the road, there were only seven other cars parked at the trailhead. We chatted with some nice rangers who were doing parking patrol, looking for those trial park permits, and found out that the new trail wasn't quite finished yet, but that it, and the new parking area, should be open this fall.

We hit the trail, and noticed someone had bothered to count the number of switchbacks the trail takes to reach the summit - I forget what the number was, but it was too big to know beforehand - 10 or 12 I can keep track of - twenty something just means it's going to take a long time!

I'd been up this trail the previous spring in the snow, so I basically knew what to expect. There were nice views of Big 4, Vesper and Sperry along the way

and we eventually broke out of the trees into vast huckleberry fields. In the snow, you can avoid all the swinging around to the west, and head straight up to the summit. Today, with two almost-two years olds in tow, we took a lunch break in the midst of the berry fields, than started slowly plodding up the final switchbacks to the summit ridge.

We had nice views of Stilliguamish (on left) and Mt. Forgotten (on right), which I'd climbed just a few weeks earlier.

We arrived at the top around 4:30 - about 4 hours after leaving the trail (we didn't get an alpine start this morning!). There was still enough time left for me to explore the NE ridge of Dickerman, and I had a fun time scrambling out towards the NE Peak of Mt. Dickerman before running out of time shortly before I'd gotten to the true NE summit. I was able to scope out the route over to Twin Peaks as well - it looks like it would be an enjoyable traverse.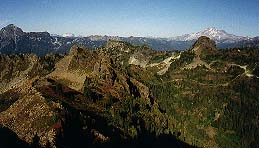 The shadows were getting long as I turned back to join the rest of the crew, still on top of Dickerman. I meandered through fields of incredibly ripe and sweet huckleberries, then rejoined Maren, Bryden and the James on a swift descent, arriving back at the van as it was starting to get dusky. A short trip to the Mountain View Inn provided us with dinner and live music. Both Bryden and Lizzie were pretty excited about seeing a live band!

After dinner the adults were plenty tired, but the kids didn't seem to want to fall asleep right away. By the time we were back in Kirkland, though, we had two soundly sleeping toddlers, and four very sleepy adults. The ibuprofen seemed to have done the trick - I was a little more tired than I normally would have been after a hike like this, but very glad I'd gone out and gotten some fresh air, rather than just sleep the day away.
---
Last updated: April 3, 2001