Chair Peak, NE Buttress
February 8, 1997
written by Mark Hicks
Tired of waiting in line at the base of the North Face of Chair Peak hoping to experience the peace and solitude of alpine climbing? Looking for something remote to challenge your self-assurance and ability to maintain in the realm of isolation? Well, you won't find it anywhere near Chair Peak. What do you think this is, Alaska or something?
However, if you're looking for a slightly less crowded and somewhat less technical alpine ice climb than the North Face route, you would do well to look into the NE Buttress of Chair. At least, that's what I told Matt Robertson when I convinced him to join Brad Walker, Rich Baldwin and I for a mid-February ascent of this route.
The weather forecast was perfect for alpine climbing, clear and cool with at least five or six days since the last snow had fallen. Of course, since it was a Washington State forecast I expected either warm temperatures conducive to rock fall and avalanches or something similar to a blizzard. Although Matt had never done any ice climbing I felt his present abilities would be sufficient, having climbed enough with him in the past. I also understood this route to be a little steep in parts, but mostly non-technical.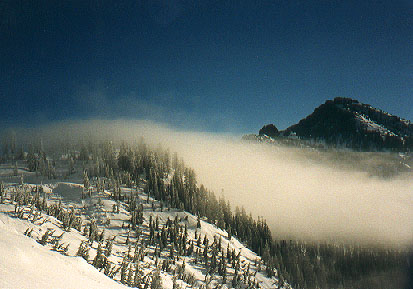 We left the upper Alpental parking lot at 7:30am. The skies were clear, save for a little fog around some of the peaks and there was a promising chill in the air. We had expected rough going through the snow at the valley floor, but found a cat track path that led all the way to Source Lake. Why someone would want to facilitate even larger numbers of people to head up toward Chair I don't know, but we weren't complaining as we ripped along on the firm snow path. A few hundred feet above Source Lake we began angling to the right, crossing slopes that we guessed were the site of numerous avalanche casualties in recent years. Conditions felt solid though and we didn't dwell too much on the misfortune of others, concentrating instead on our objective which was now beginning to reveal itself, along with the three other climbing parties who were already on the route! Oh, well.
Once on top of the ridge at Chair's NE base, parties intent on the North Face would traverse up and right for about 200 yards to reach the start of their route while we held the ridge until reaching the base of the NE buttress where the ropes, crampons and ice tools came out. The route can start either to the left of the ridge on 50 degree open slopes or to the right up a distinct gully. I chose to start my lead up the gully which was fully shaded and sure to be well frozen. Matt and I began with the intention of using a running belay, but as I neared the gully I realized it was steeper and more technical than I had anticipated from afar. The ice was solid, much of it water ice as steep as 60 degrees which took screws very well and held my tools firmly with each placement. I would occasionally stem across the rock outcroppings on either side when they drew close enough for my short legs to do so, affording me a chance to practice a little mixed climbing.
The gully curved slowly left and after passing a few trees I arrived back on the steepened ridge, thankful to find one last tree from which I could belay, the gully having consumed all but one of my pickets. Having thought the previous parties summitted long ago, I was a bit startled at the steady chink of ice tools and crampons to my left. I turned to see a solo climber who had come up the left side of the ridge and was making his way up at an enviable rate that would certainly put him back within reach of a cold draft by mid-afternoon. I resigned myself to the slow pace of our four person party, realizing the camaraderie we had over the lonely pursuit of the soloist.
I soon heard Matt nearing my line of sight, huffing and puffing but putting a hell of an effort forward. When I could finally see him I reminded him that his second tool was meant for his hand, not his holster and he soon found that two tool climbing had it's advantages. He made quick work of the rest, climbing as though he wasn't aware that ice climbing was supposed to be a little awkward your first time out.
With the soloist nowhere to be seen (either because of his speedy upward movement or fateful downward movement) I began to traverse up and left across the steep (45-50 degree) frozen NE face. The exposure was exhilarating with the face angling off beneath me so that the first ground I could lay eyes on were the flats 500 feet below. I sank six pickets on the 200' pitch before reaching the 15' vertical band of water ice that ran the width of the face. Once the others had joined be, we awkwardly shuffled gear, slings and anchors, taking care not to unclip anyone while I prepared for the next lead. The band could be tackled straight on in favor of more vertical ice, but due to the day getting late and the combined level of experience, I led around to the left where a small step provided easier access up and over the ice.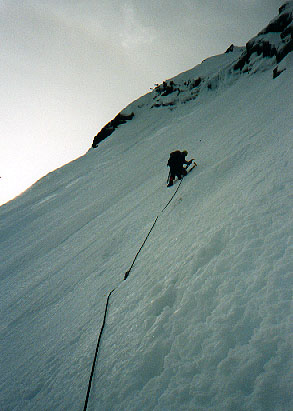 Rich had decided to try Matt's one tool technique at the band of ice where he promptly dropped his second tool while removing a screw, sending it into no man's land. He said "It's OK, at least it was my cheap tool", while we all thought "a cheap ice tool, does such a thing exist?"
We continued to climb the right side of a shallow ridge where the angle remained steep for another 400' before gaining the top of the ridge. From here the summit was in sight. We ran the last 30' to the top. Summit time, 4:30; sunset, 5:20!
It felt a bit late considering the technical nature of the descent but we figured as long as we found our first set of rappel anchors before dark we would be all right. We made tracks for the southern most couloir and after some exposed down climbing for a few hundred feet we arrived at the rappel notch.
The sun was but a sliver on the horizon with the few surrounding clouds smothering the last of it's rays.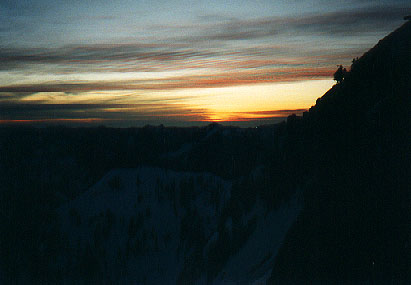 We were rappelling into an east facing couloir so the head lamps became a necessity, especially for Brad who went first and had to find the second set of rappel anchors off to the side some 150' below. After a second rappel into the chilling darkness, the couloir gave way to some lesser angled slopes at the head of a large bowl that funneled down into the flats beneath the buttress we had climbed.

It was a little after 7:30 and it felt good to be off of exposed terrain for the first time in many hours (four person teams can be deceptively time consuming). We were tired and cold but very satisfied with our climb. The route had been in perfect shape and we had shared it with no one but ourselves. Before continuing our descent from the flats, Brad and Matt made use of Rich's cell phone to call their worrying wives, while I took pleasure first, then pity that I had no one at home to worry for my return. I consoled myself with the thoughts of all the climbing I would miss if I were tied down and began a contented descent back toward the car.

We put some urgency in out steps as Matt's Pathfinder grew nearer, for it would soon carry us to the beer and pizza in North Bend of which motivating images had danced in our heads all day.
---
Last updated: April 4, 2001