Cabin Creek
March 20, 1999
We were heading over to Wenatchee to spend a day skiing at Mission Ridge, and decided it would be fun to break the trip up with a stop to do some snow shoeing and cross country skiing at Cabin Creek. We met the James and the McCrackens in the snow park area and bundled the kids up nice and warm - although the day was sunny, we knew that playing in the snow could result in "kid-sicles" if they weren't dressed warmly. We walked over I-90, and donned our shoes or skis, then headed north a short ways. I'd remembered a nice field in the middle of one of the trail loops, and in just a few minutes we were there, walking off of the trail, across unmarked snow, to a little stand of trees where we could set our gear down and start playing. Some folks headed off to try track skis, and some stomped around on snow shoes, but mostly we just stopped and let the kids play, climb and throw snow. We'd brought some skis for all the kids, so they got to try them on, and try walking around on them - it was pretty amusing!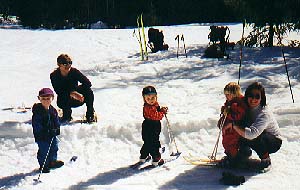 Bryden, Kelly and Lizzie trying out their skis
A small pile of snow nearby became a mountain meant to be climbed by the 2 year olds, and using all available tools (boots, ski poles and dads), all three "climbed" to the top!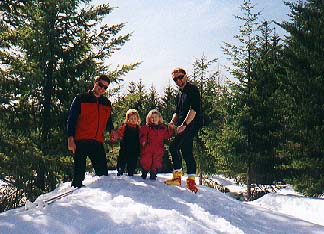 Kelly and Lizzie topping out with their dads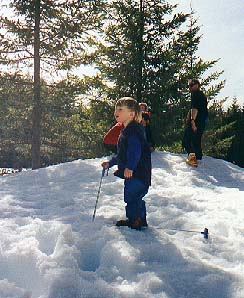 Bryden on his way to the top
I took off for a bit to get a little snow shoeing exercise, and on the way back Maren and Bryden were coming out to find me.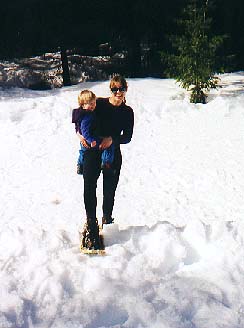 Maren and Bryden snowshoeing
Once we were all back to the trees it was time for a little bite of lunch, and then on to Wenatchee. Before leaving, however, Brenda coudln't resist showing off the wonderful toenail polish job she and Kelly had done early that week - a rainbow of toes! A short walk back to the cars and repacking all the gear and kids, and we were once again on our way to Wenatchee. We hadn't left the snow park area before the fresh air and exercise took their toll on Bryden, and he was soundly asleep in his car seat.

Brenda's many colored toenails
---
Home | Send email to Matt Robertson | Last updated: April 2, 2001