North Ridge of Mount Adams
July 9-11, 1993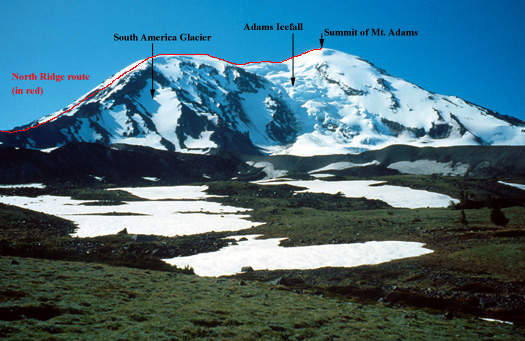 North Ridge route of Mt. Adams
This is a fabulous climb to a crowded summit by way of a lonely ridge. It may take a little longer than the popular south spur route, but to me, the solitude is worth it!

We met on a Friday around noon to carpool and head down to high camp. First driving to Randle, we then headed east on the Midway Loop Road to the Killen Creek trailhead. We arrived there around 3:00, but with the long days of early July, and only 2500' of elevation gain to get to the high camp, we weren't too concerned with time. The trail was in great condition, recently filled with sand, which made for no mud and easy walking on the feet. About half way we entered into the Adams Meadows - what a beautiful place, with spectacular views of Mt. Adams! This would make a worthy destination in and of itself if you're looking for a very short hike to a wonderful camp spot. Because of its nearness to the trailhead, I suspect, the Meadows are probably quite crowded on any pleasant weekend. We continued on, eventually crossing the Pacific Crest Trail, turned north for a bit, then headed up a climber's boot path towards a higher camp. The way is obvious and mostly easy, with just a few scrambly parts thrown in here and there to get a taste for what the full north ridge route will be like.




Mt. Adams from Adams Meadows




Approaching high camp at 6900'

We arrived in camp at a leisurely 6:00, still with plenty of daylight left, but wanting to call it a day early to get a reasonable start the next morning. One of the first things that struck us was the obvious direction of the prevailing winds - extremely evident from the shape of the small first dotting the parklands. All of the had been wind carved into a wedge shape, all with their noses pointing west. We took a clue from this, and pitched our tents in the eastern lee of these small wind breaks, hoping they'd provide some shelter, and hoping for a calm night. After setting up camp, and a quick dinner, we stayed up too late watching the sunset reflect off of the south side of Mt. Rainier, and watching Mt. St. Helens disappear into the evening colors as well. From this high camp you have excellent views of both volcanoes.
Eschewing the typical climber's start, we didn't wake until 5:00 the next morning and were on the route by 6:00. Mt. Rainier looked stunning in the early morning light as we crossed some snow fields, and headed up our first slopes. The ridge itself is a large and easy feature to follow, with only two or three difficult sections. One of the first that we encountered was an area where the guidebook specifically says to stay west of some gendarmes. Well, it's good that clue is in the guide, because the eastern side sure looks more inviting, for a short bit. Ignoring Mr. Beckey's advice, we worked our way around on the east until we were dead ended. Then, we worked back to the base of the gendarmes, and out onto the western slope, which was loose rubble, scree and pumice. Not pleasant, but after 10 or 15 minutes you're back up on the ridge proper again, and things get easier. Shortly after that we worked our way onto snow. This was a welcome relief from the loose rock, but the first snow section is steep, and there's no run out. An area to be attempted only of the snow conditions are firm, and your ice axe skills are top notch - a slip here would send you tumbling down to the Lava Glacier, far, far below. This early in the morning, the snow was in fine condition, though, and we continued working our way up. The route finding is very obvious as you ascend, and we stopped once when the snow became harder to put on crampons, and once again around noon for a quick lunch. We were blessed with fabulous weather, so blue skies and sunshine surrounded us, and with unlimited visibility we just continued following the ridge up.



Stopping to put on crampons, Mt. Rainier in the distance




Final slopes to summit plateau

Around 11,000' we came across one of the stranger things I've found in the mountains. There, with no tracks in any of the nearby snow, was a dead squirrel, splayed out on the frozen surface. We puzzled over that for a while, and the only conclusion we could come up with was that an eagle had grabbed the squirrel, then got caught in a major updraft, and at some point higher than 11,000' (how high do eagles fly, anyway?) decide to jettison the squirrel. It didn't look like it had been there long, as it was lying on top of the frozen snow and hadn't melted down into it yet, so we guessed it had been caught and dropped sometime that morning. Around 11,500' we started smelling sulphur, and soon the sulphur fumaroles became evident. One member of our party was somewhat affected by the strong smell of rotten eggs, but there was a little breeze blowing, and as long as you stayed downwind, the aroma wasn't overpowering. The disadvantage of the north ridge route becomes apparent somewhere between 11,500' and 12,000' as you can finally see the summit, and see how far away you still are from it. Not that many feet vertically, but you approach the summit from the "wrong" side, and have quite a walk across the top of the mountain to stand on the small mound of snow covering the sulphur miner's cabin that marks the true summit. Still, after not seeing another person along the way since we left the trailhead, it gave us a few minutes to adjust to the crowds that had arrived up the south spur that were milling around the summit plateau.
We waited for several parties in front of us to get their pictures, then we did the same, as a group, as couples, and in other various combinations. Pat and Roy had brought a kite up with them, and the proceeded to launch it into the building breeze and fly it for a short while. We hadn't climbed quickly, and it was already 3:00 by the time we arrived on top, so not wanting to return to camp after dark we spent only a short time enjoying the fruits of our labors before turning back to the north, leaving the crowds behind, and beginning our descent. Although the day had seen only blue skies and sunshine, creating some awesome suncups, it had still been cool enough that the snow in mid-afternoon was still firm and solid. We were thankful for this as we descended some of the steeper places, particularly the final section of snow before dropping back onto rock. It seemed all the steeper when you were walking downhill and could see how little snow was between you and a drop of hundreds of feet - slipping here was simply not an option. We were all getting pretty tired after such a long day, and on one section that was an easy traverse on the way up we elected to pull out for the first time the one rope we carried and set a hand line across. The shelf to traverse was probably two feet wide, but the rock above the shelf overhung a little, and the drop off behind you was quite stunning, if you bothered to look (I didn't until I was across). Electing for extra safety at the expense of a little time was probably a good call here - we were close enough to the camp that the sun hanging low on the western horizon didn't matter all that much - this was the last difficulty, and the remainder of the route was just a stroll (by some very tired bodies!) back down to camp.



Matt and Maren on the summit
We arrived back in our high camp around 9:00 that evening, with just enough light left to cook up some dinner. I was exhausted and lay on my sleeping bag while Maren concocted something that tasted better than anything I have ever consumed in my life - it's amazing what a cup of Lipton instant soup can taste like after a long day in the mountains! After everyone got some food and liquids into them, we all crashed easily and soundly. It may have been windy that night - I'd have never known!

Knowing we only had a short ways to go to get out on Sunday morning allowed us to have a leisurely late wake up call and lingering breakfast. The weather remained spectacular, and we entertained ourselves with the views, and watching the only other folks we saw, other than at the summit, a pair of climbers approaching and starting up the Adams Ice Fall. (I was shocked and saddened when I read in the paper on Monday that the pair had been killed later on Sunday, either from a fall, or from collapsing ice cliffs. The accident must have occurred just a few hours after we left.) After breaking down camp, and restuffing our packs, we headed back towards the PCT, taking a slightly different was down from the high camp that gave us the opportunity to walk across sections of terrain that had probably not seen a visitor in decades, if ever. Okay, we got a little lost, but knowing the PCT was north of us, we just kept heading north and west, and eventually found the trail. Turning right we soon came on the intersection with the Killen Creek Trail proper, and, glad to be back on real trail, rolled on towards the Adams Meadows. Not being in any hurry, we stopped here for a while to enjoy the scenery, then headed back along the last lege of the trail to the cars.

So, why do the north ridge instead of the south spur? Solitude, an opportunity to do your own route finding, views of Mt. Rainier at sunrise (I imagine you trade those for views of Mt. Hood on the south), views of Mt. St. Helens (can you see her from the south spur?), views of the Adams Ice Fall, and a shorter drive. Like the south spur, the north ridge crosses no glaciers, so a rope (and the associated technical gear) is not needed. We took one rope, and as mentioned above, were glad to have it to set a hand line at one spot. Prudence might dictate carrying one light line for the group. The route takes a little longer than the south spur, so allowing a half day to reach high camp, a day for the climb (the 15 hours we took is probably near the longest this route should take, I'd guess 10-12 hours round trip would be more reasonable), and a half day to return to the cars is about right. Lack of snow in late season could turn this into a very unpleasant scree scramble, so the best times of the year to do it seem to be from whenever the trailhead becomes reachable to perhaps mid-July.
---
Last updated: January 27, 2004