July, 2005
We did our trip up to Penticton again, with the usual cast of kids: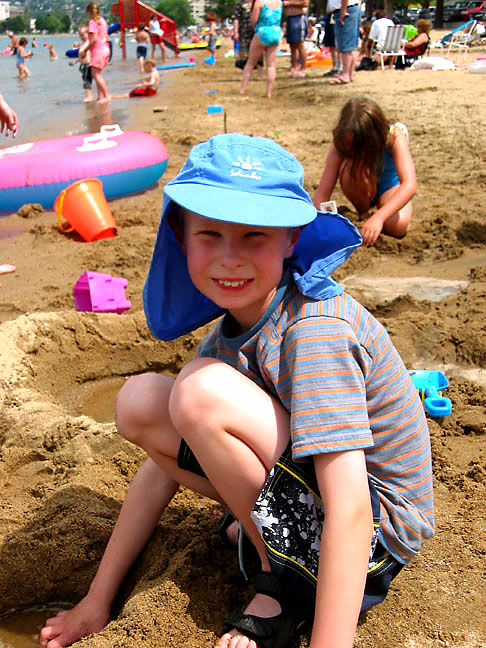 Bryden...

and Gavin

Lizzie...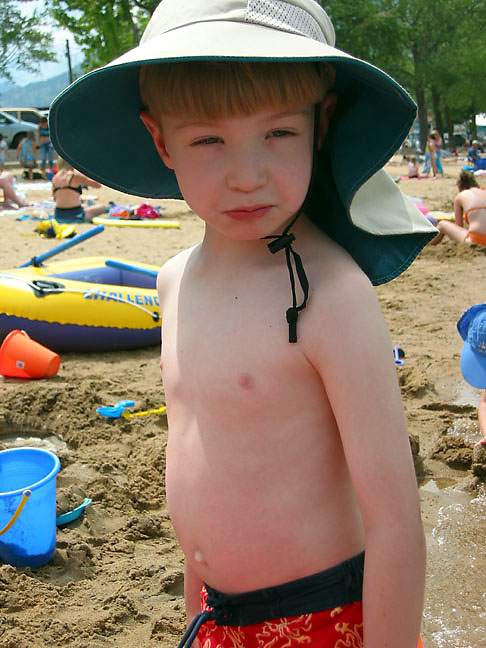 and Ian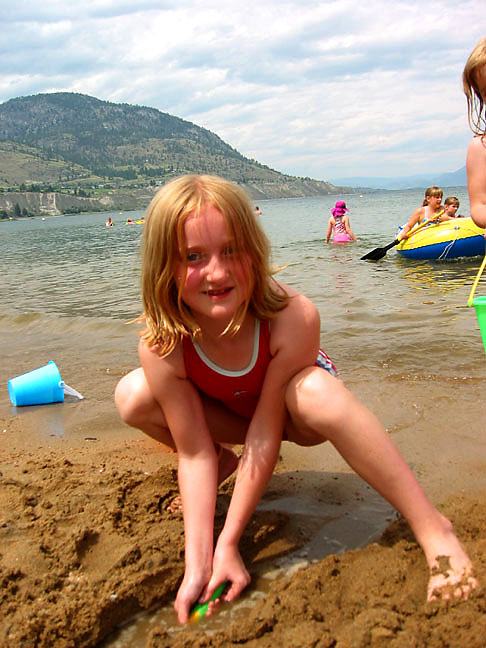 Kelly...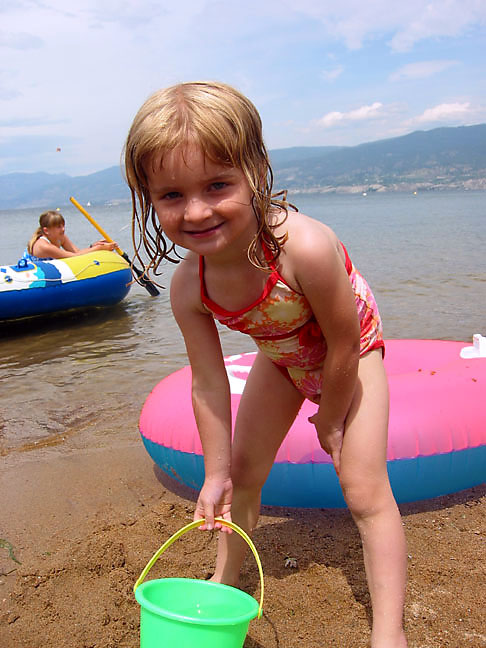 and Caitlan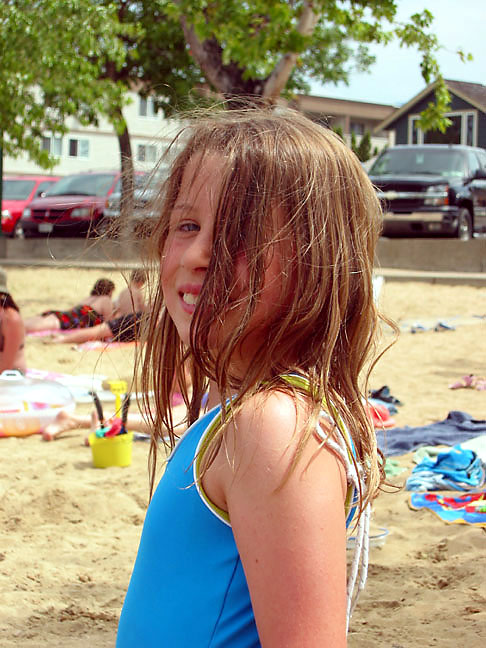 And this year Ellie joined us too!
There was all the usual activities: - beach time: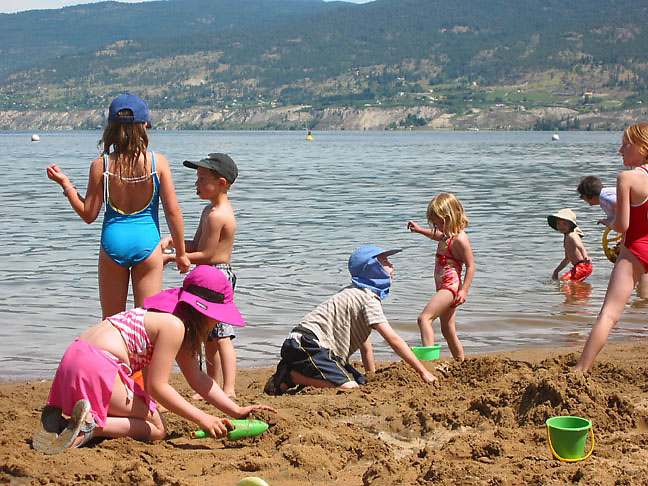 Kids on the beach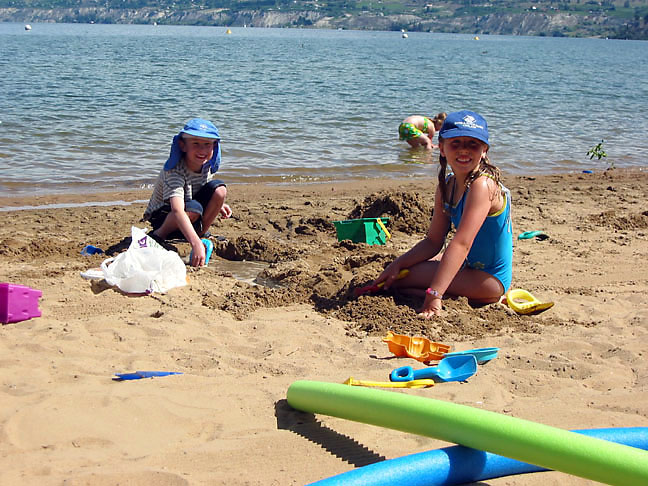 Bryden and Ellie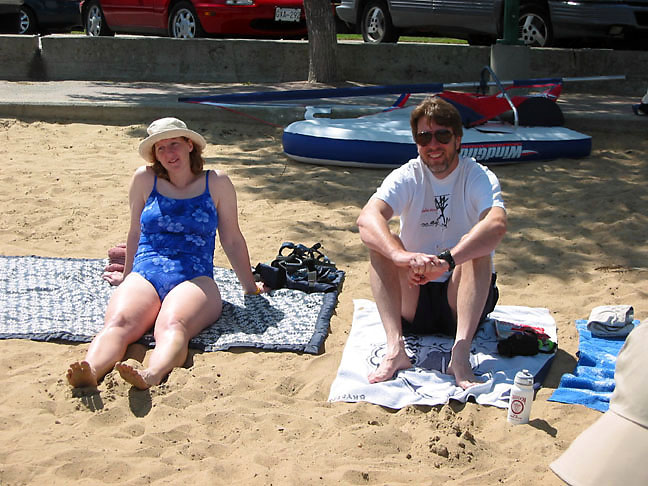 Brenda and Matt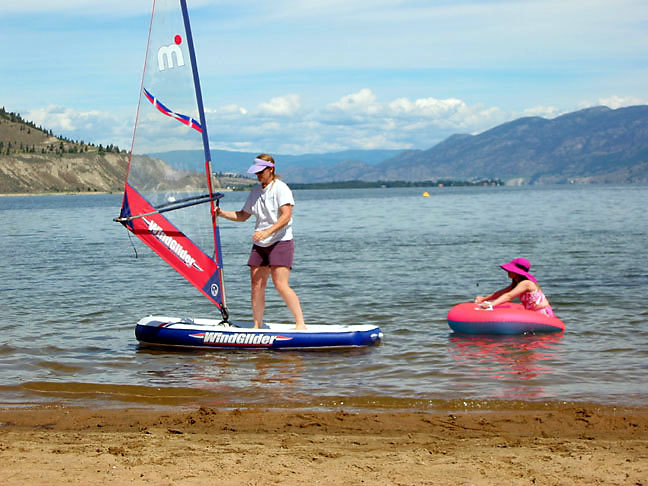 Diana brought an inflatable wind surfer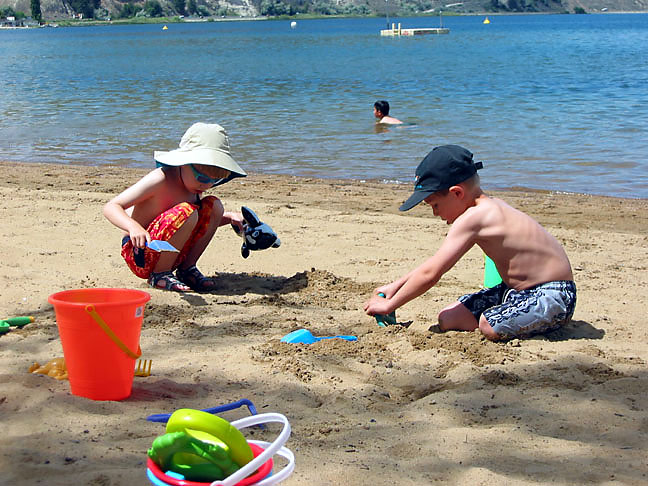 Ian and Gavin constructing something out of sand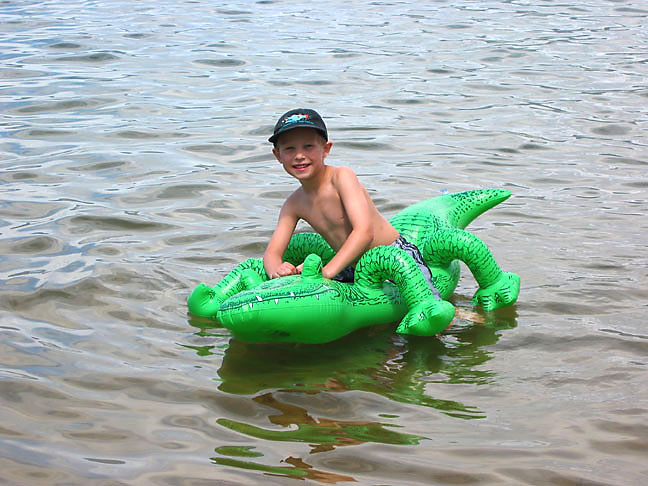 Gavin showing he knows how to handle an alligator
There was some biking:

Everyone ready for a bike ride down to Skaha Lake
Mike, Matt, Rob, Caitlan, Brenda, Lizzie, Kelly, Ellie, Gavin (on training wheels - he rode the full 8 miles on a gravel path that way!), and Diana.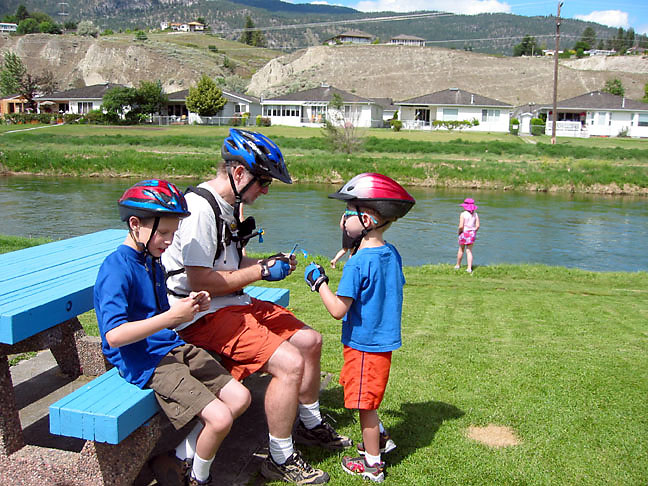 Bryden, Rob and Ian take a Gu break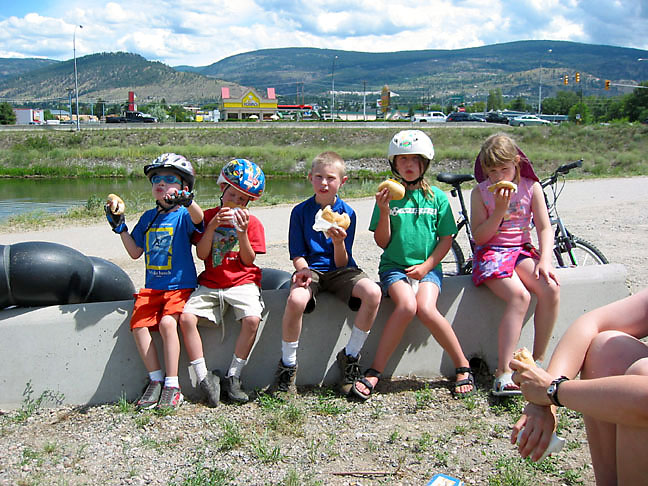 Time for a lunch break

Ian and Gavin at the rose garden
Climbing:

Gavin climbed quite a bit this year

And got quite comfortable on the rock!
And a few other activities: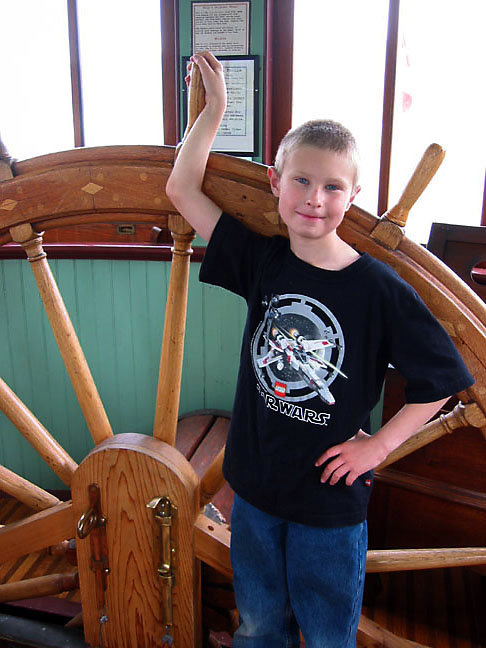 Bryden in the wheelhouse of the Sicamous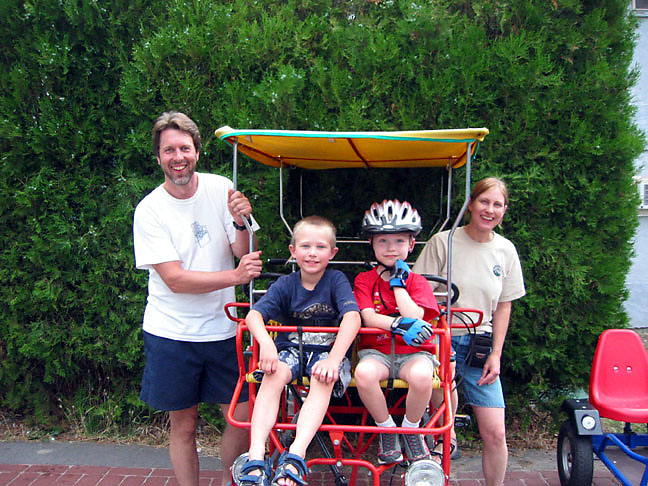 Matt and Maren ready to take Gavin adn Ian out for a pedal car ride

A quick round of miniature golf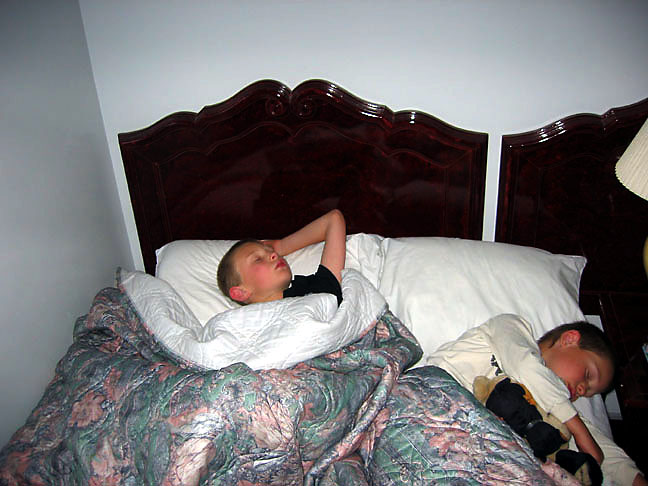 And we end each day as usual, with exhausted boys!
---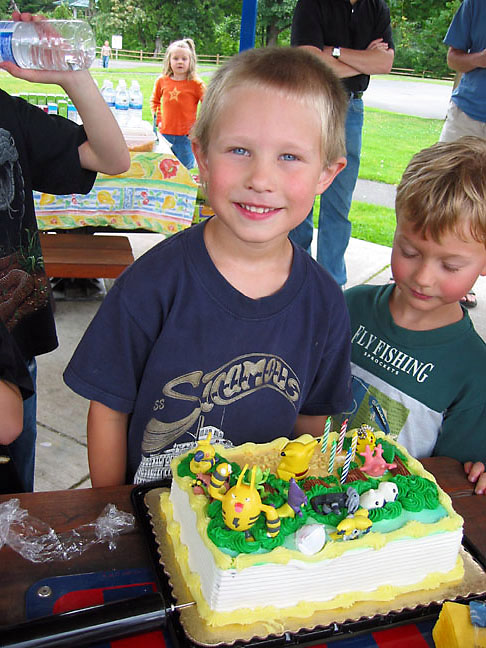 Gavin turned 5 this month and he had a Pokemon cake to celebrate the occasion
---
We did a backpack trip in to Pete Lake...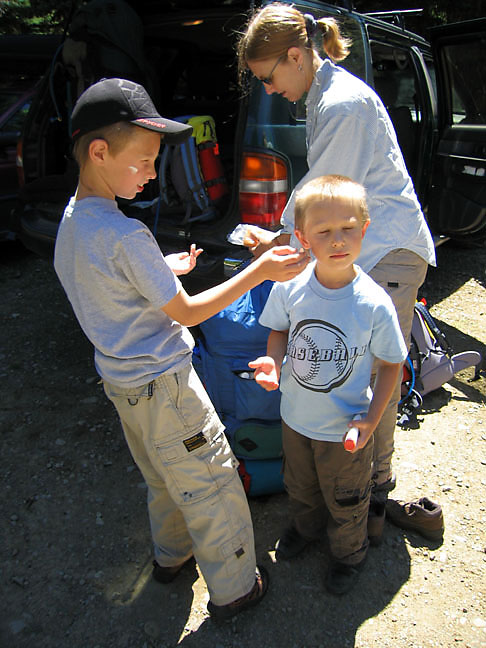 Sun screening has become a ritual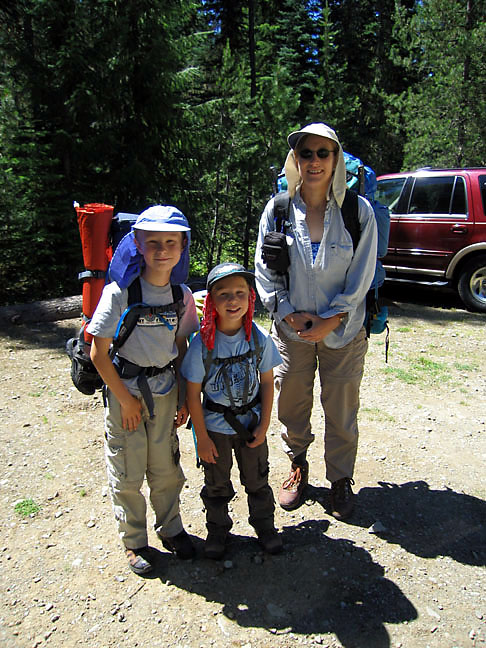 Bryden, Gavin and Maren ready to go for a walk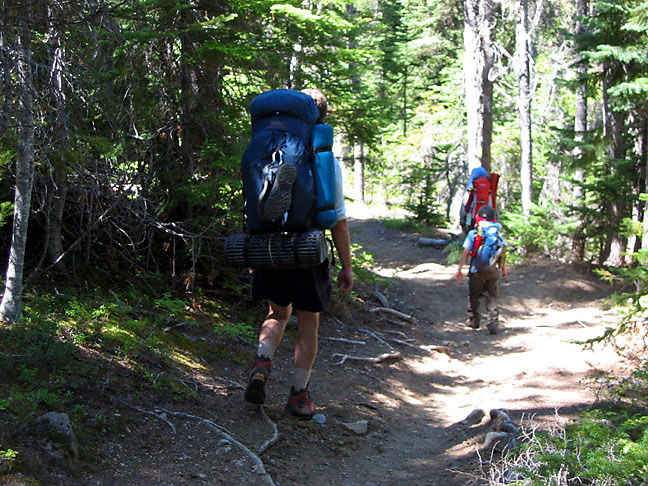 Dad still gets to carry the big loads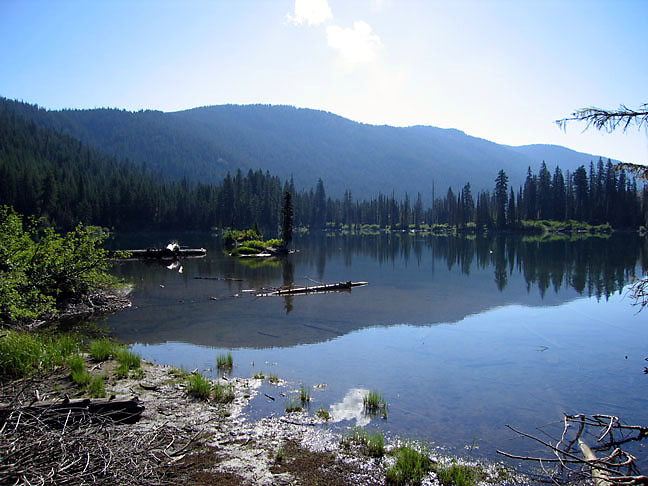 Pete Lake was very pretty, but the muddy shores didn't make for a very good swimming lake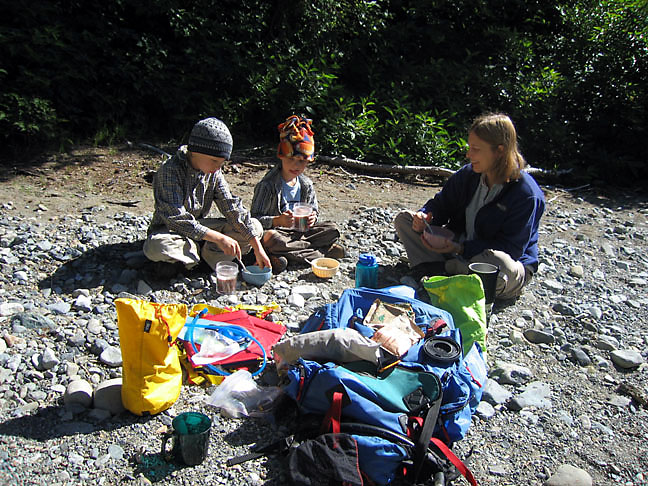 Backpacking breakfasts are always good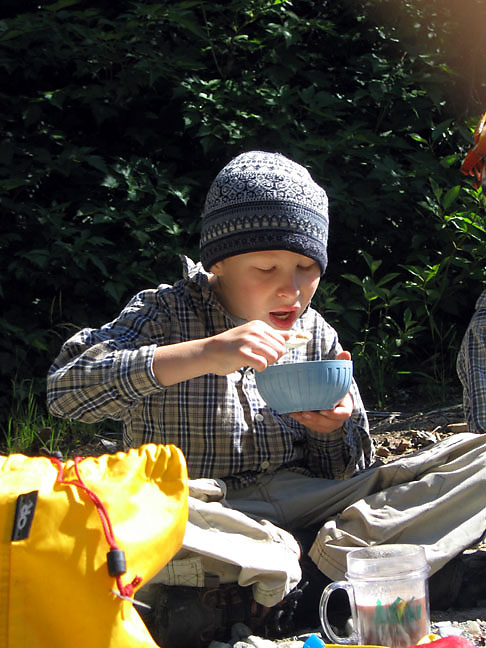 Bryden, making sure not to waste anything!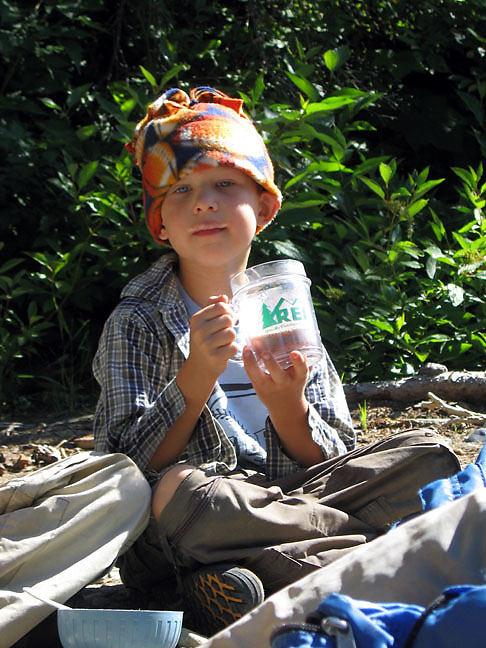 Gavin loves his cocoa in the morning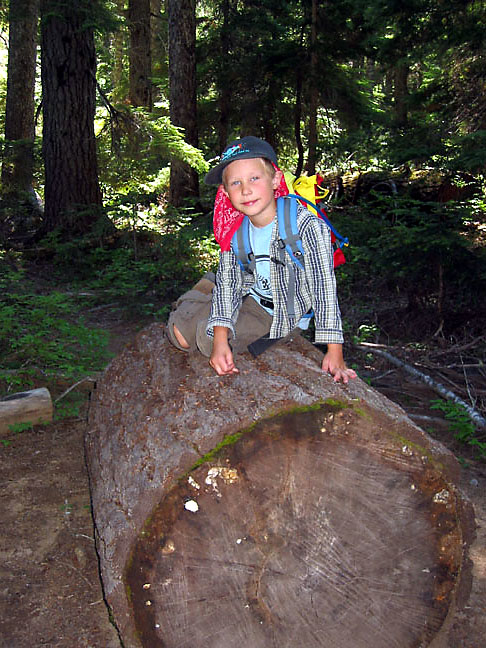 Gavin resting on a big log on the way out
---
We did a day hike to Pinnacle Lake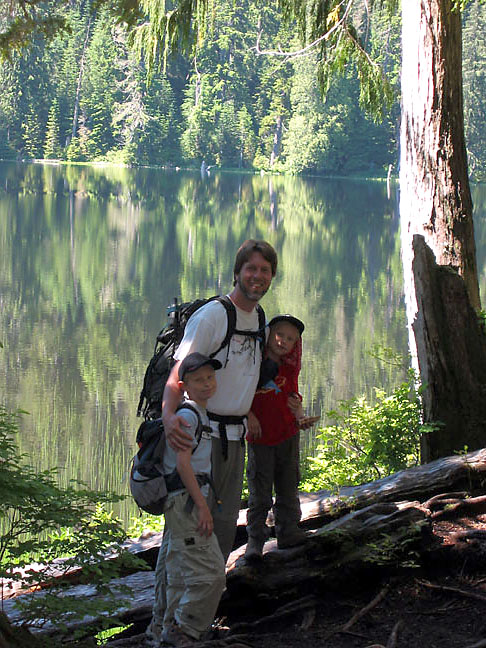 Matt and his guys at Bear Lake on the way in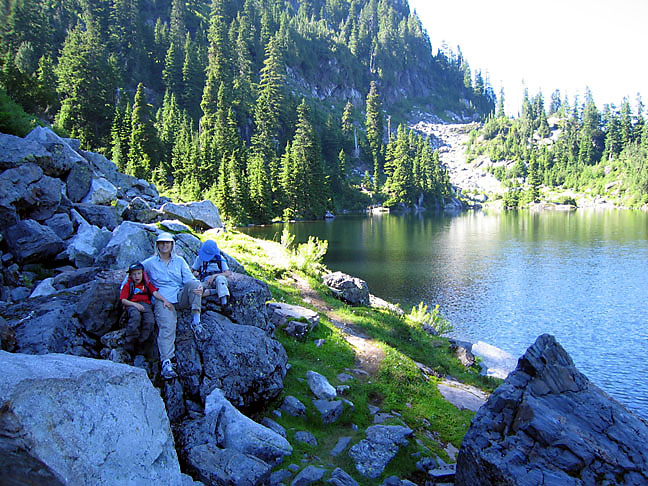 Mom and her boys at Pinnacle Lake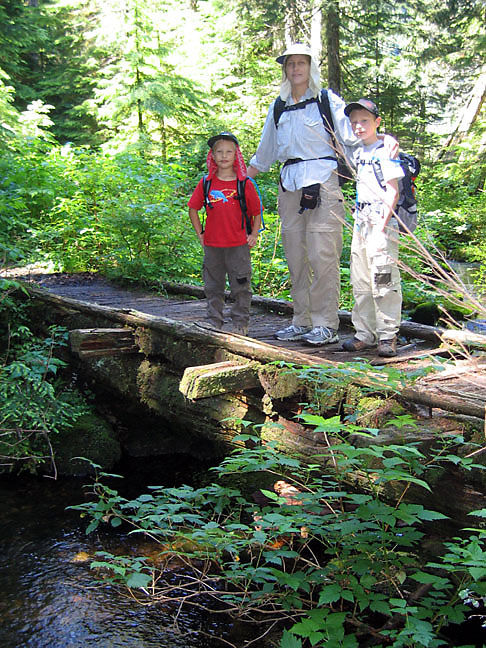 Gavin, Maren and Bryden
---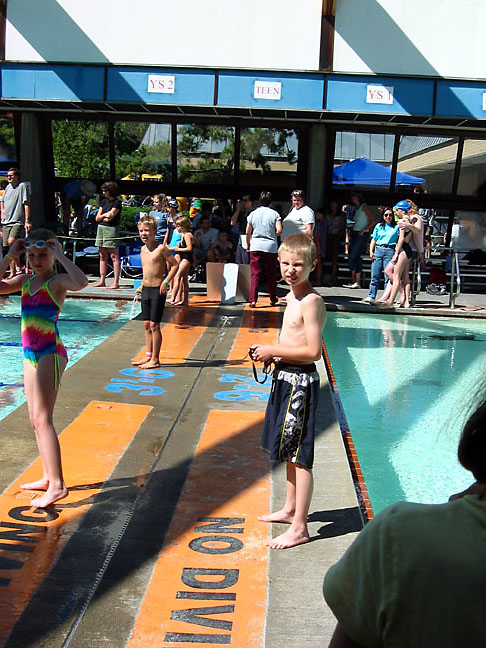 Bryden swam on the Kirkland Orcas swim team this summer
---
Cousin Joel got married, and Gavin got to be a ring bearer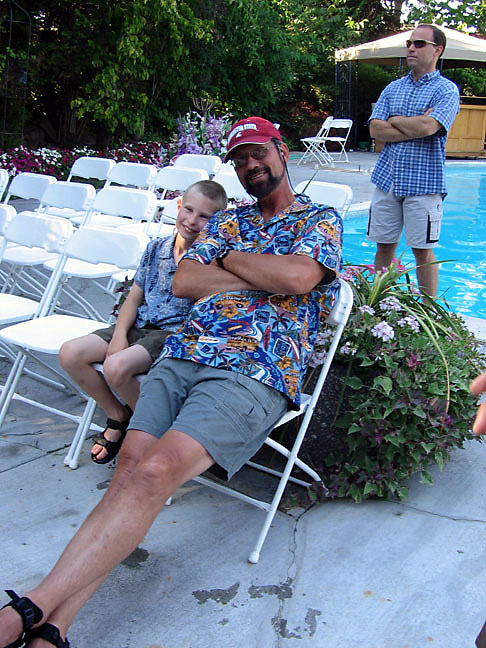 Bryden with Uncle Byron

Joel's sister Melissa with Laney and Joel at the rehearsal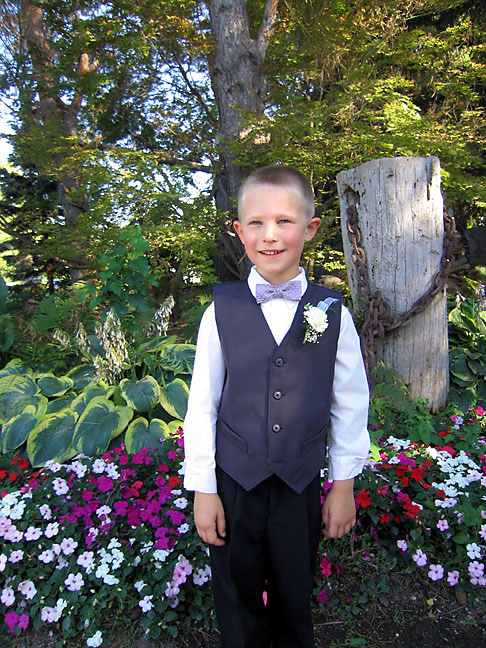 "Man - I gotta get dressed up for this?"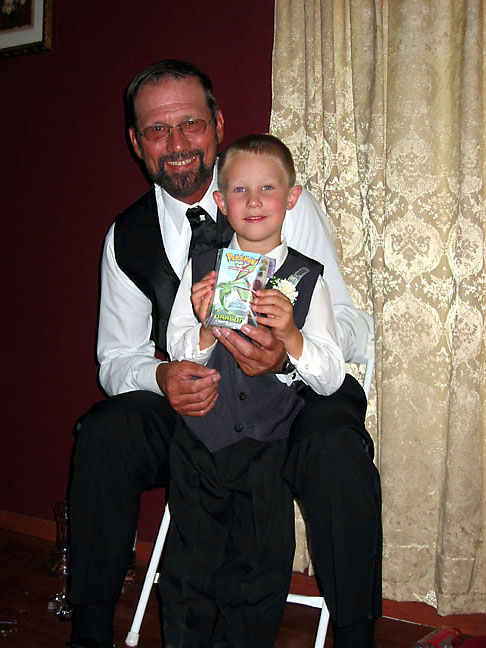 "Okay, if I get Poke cards, I guess it's okay!"

Gavin doing his best to look charming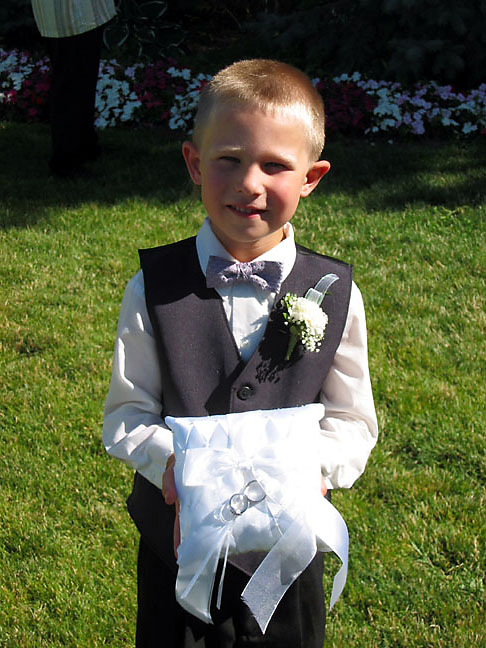 Don't lose that, Gavin!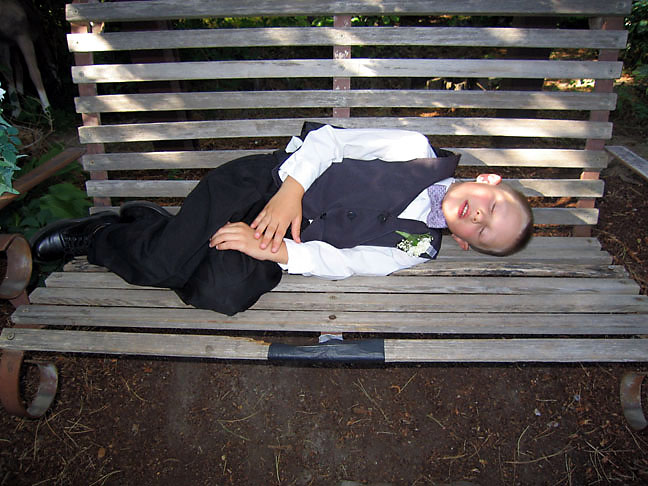 All this being on your best behavior can tire a guy out!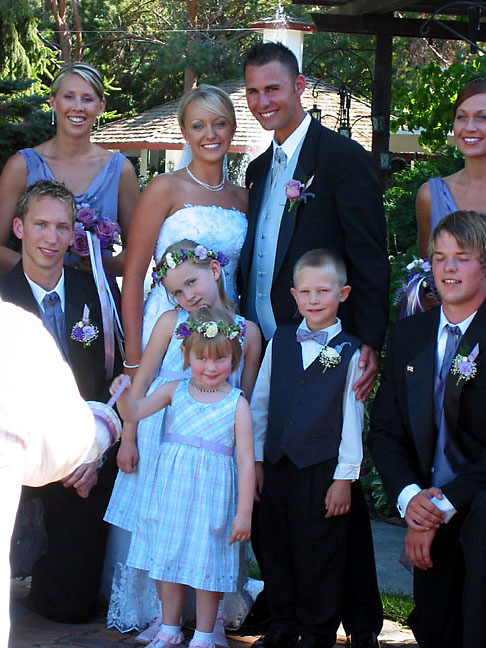 It helps to have cousins around - Melissa, Laney and Joel in back with Eleanor, Angelina and Gavin in front (and other members of the bridal party)

The "other" Robertson clan: Byron, Gail, Laney (she's a Robertson now!), Joel, Melissa and Dean.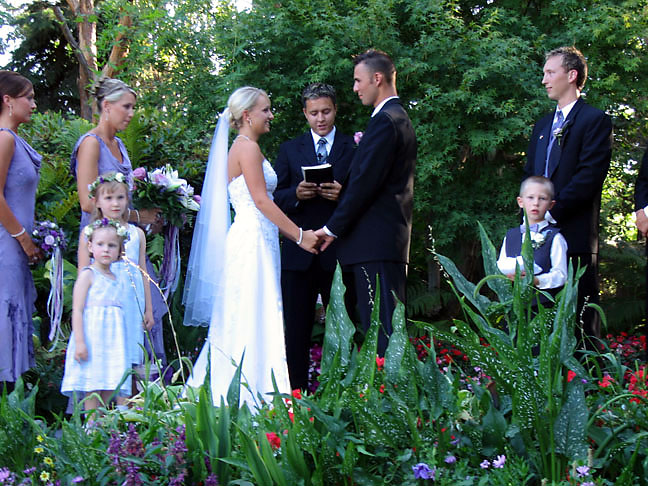 Gavin was mostly well behaved during the ceremony - except for that fly that landed near his foot that he had to stoop down to swat and squash.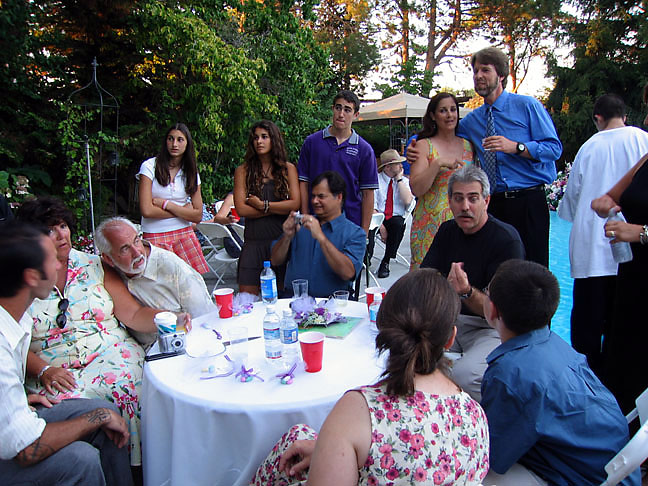 After the ceremony, lots of family and visiting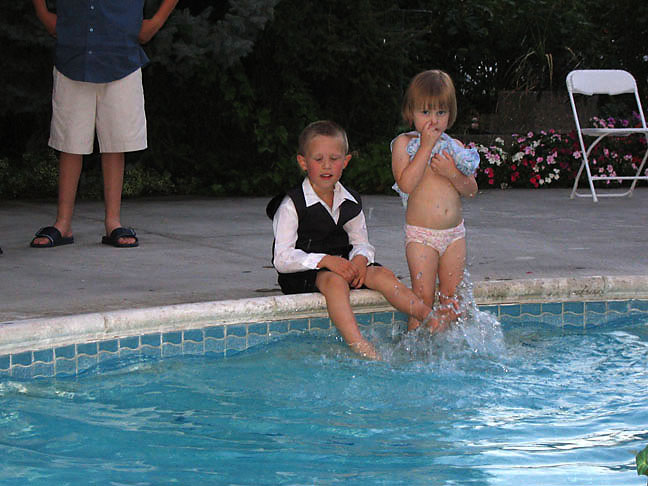 Hangin' out at the pool with cousin Angelina

Does this guy look like he knows how to party, or what?!
---
Last updated: May 28, 2006