Alex's 11th birthday was coming up, and instead of wanting a birthday present, she asked us if we could take her on an overnight backpacking trip. You have to love an 11 year old girl who'd rather backpack than get stuff!

We were more than happy to oblige, and chose Boardman Lake to hike in to and camp at, and planned to try and get up to Island Lake if we could find a way that wasn't too tough. We couldn't leave until after Alex's Saturday morning soccer game, so after a late start we arrived at the trailhead around 3:30 and saddled up. The trail to Boardman Lake is short (about 3/4 of a mile), flat (only a few hundred feet of elevation gain) and well maintained. In a short half hour we were at the lake and proceeded along the trail on the east shore to check out the camp sites. We claimed the last one along the way as ours and quickly set up the two tents and stashed our gear. Then it was time to head down to the lake to play.

The day was sunny and warm, but being the end of September, the water was decidedly chilly. For the most part the kids were content to just wade into the water, throw rocks and play along the shore. Maren and I were able to relax and lounge on the rocks, soaking up the afternoon sun. Alex and I eventually decided to do some exploring, and walked back down to where the trail met the lake. We wanted to scout out the reported boot tread that would hopefully lead us up to Island Lake the next day. We found the tread, but it splits and splits again into many different ways up and over the cliffy areas on the north shore of the lake. Some of the paths give you some interesting scrambling sections, but taking the highest option each time took us up and over the rocky area of the shore, and then dropped us back to the shoreline on the other side. This agreed with the information I'd been able to glean about the way path to Island Lake so, satisifed, Alex and I headed back to camp for dinner.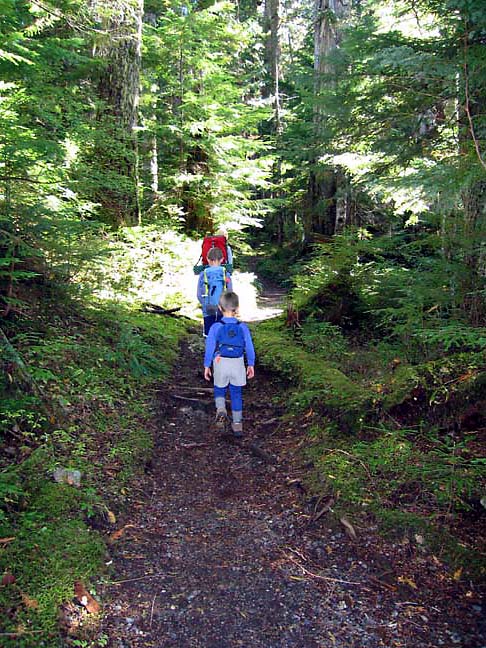 Alex (11), Bryden (7 1/2) and Gavin (4) on the trail in to Boardman Lake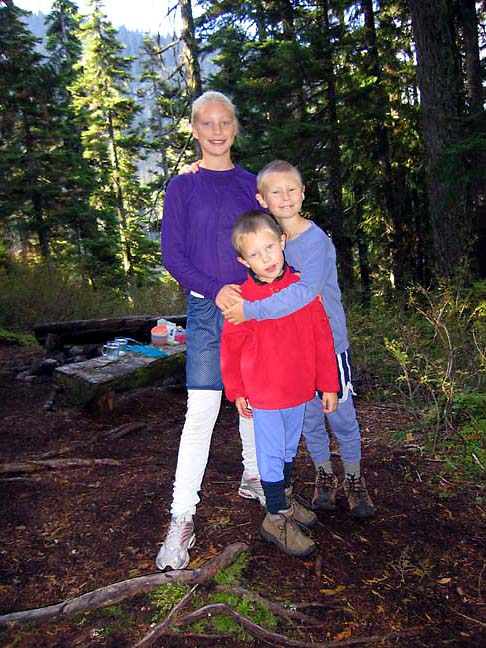 Alex, Gavin and Bryden ready for the morning's hike
The sun was starting to go down behind the hills to the west, so the three cousins bundled up in their warm clothing while Maren and I got dinner going - fleece does such a good job of warding off an evening chill! The first course was some instant mashed potatoes, and I guess we managed to tire poor Gavin out. He was holding on to the cup of potatoes to warm up his hands, and as he took bites his head drooped lower and lower until he finally fell asleep sitting up! We bundled him off to his sleeping bag for a little rest, and it didn't take too long before he was recharged and ready to rejoin us for some more dinner!

We had to have dessert after dinner, and since this was Alex's birthday celebration it seemed only appropriate to have birthday brownies! (Alex had also selected a freeze dried blueberry cheesecake mix to try - it was surprisingly good!) After a round of "Happy Birthday" and blowing out her candles, we brought out a small and appropriate present for her - her own headlamp! I think she was quite pleased!

The next morning was a little chilly, but we still had blue skies and sunshine. Gavin was shivering just a bit, but it was nothing a breakfast brownie couldn't help! We fired up the stoves and got some cocoa brewed as well - that got everyone warm and cheery and ready for the day's adventures! While everyone was eating breakfast I wandered down by the lake shore - it was so calm and pretty in the early morning light - it's really a lovely destination for such a short hike.

We got the kids ready for hiking and set out for our adventure to Island Lake. We hiked back to where the main trail comes in at the lake, and headed west and up. Along the trail we saw this brown salamander/lizard/newt and a really big toadstool! The way meandered up to a stream, then down to the lake, then up and over a rock face, across some streams, never getting too difficult even for Gavin, and mostly easy to follow boot tread. We took a snack break half the way there to eat worms and frogs - both of the gummi variety, of course!
We got all the way to the base of the cliffs that Island Lake is perched on before it became obvious that this was going to be a bit much for Gavin. He and Maren turned around to have lunch as Bryden, Alex and I headed up some steeper terrain. Gavin was disappointed, but I think we'll probably head here again next year, and I bet he'll make it to the lake then! After gaining a little elevation, the three of us came to the steep gully that gets you up on top of the cliffs. While steep, it isn't terribly difficult - more of a root and rock ladder, and both Bryden and Alex had no trouble with it. Once we were at the top of the gully, pretty Island Lake comes into view, with its namesake island right in front of you. We followed excellent trail to a little promontory and kicked off our boots to cool our feet. We agreed it was too chilly to go for a dip, and we knew we didn't have much time before Maren wanted us to rejoin her, so we contented ourselves with a short rest at a beautiful spot, and talked about coming back here and staying longer next year.

The way back was uneventful and pretty quick now that we knew the way. We stayed closer to the lake shore on the way back than we had on the way out, and it provided for some more interesting terrain for the kids, with Maren and I close at hand to prevent any slips. I think I'd try to stay high on the way back next time. Once back at camp, Bryden and Alex went down to the lake to pump some water for the stroll out while the rest of us broke camp and packed it away. We headed back the way we had just come from on our return from Island Lake. It didn't take long to return to the trailhead, and Gavin and Alex led the way holding hands back to the cars. It's nice to have a cousin to share trips like this!

(Two final panoramic shots: Boardman Lake from near the inflow, and Island Lake.)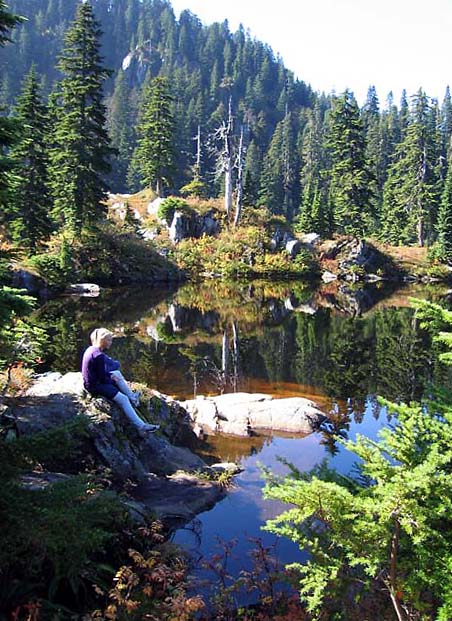 Alex and Bryden (who can barely be seen) at Island Lake