May, 2004
In May, Matt, Maren, Bryden and Brita took a short trip to Orcas Island for a sea kayaking trip. The weather during the kayaking wasn't conducive to pictures, but we had a good time anyway!
---
Here we are in the car on the way up - everyone's blue eyes were quite bright that day!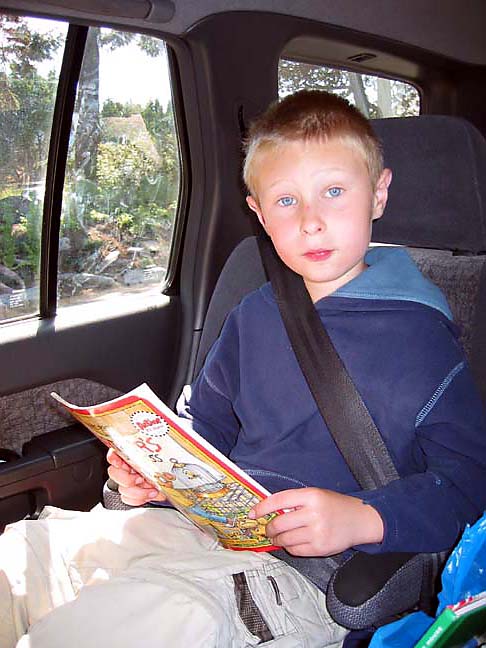 Bryden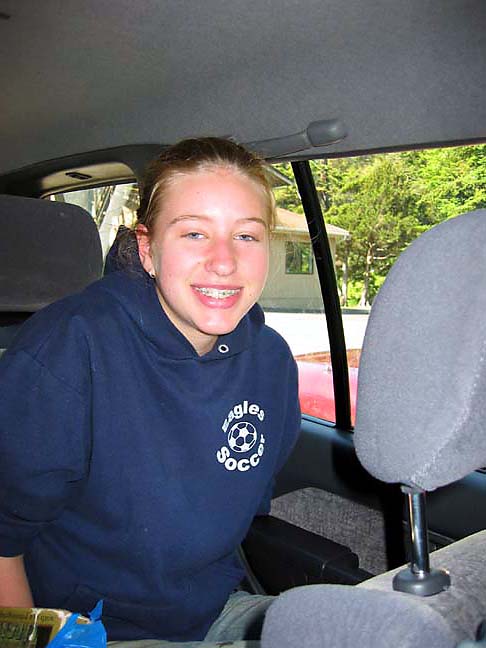 Brita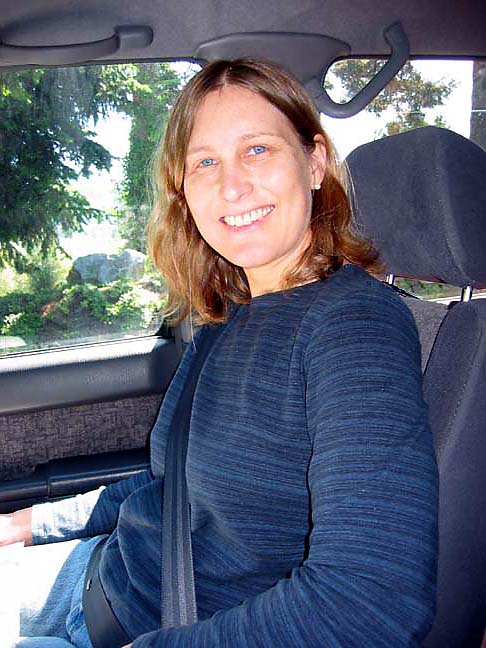 Maren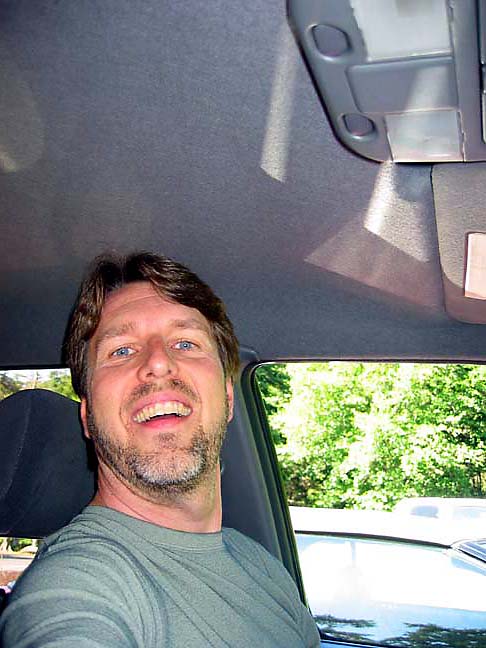 Matt (obviously, a self-portrait!)
---
We went to a consignment shop and Maren and Brita played dress up...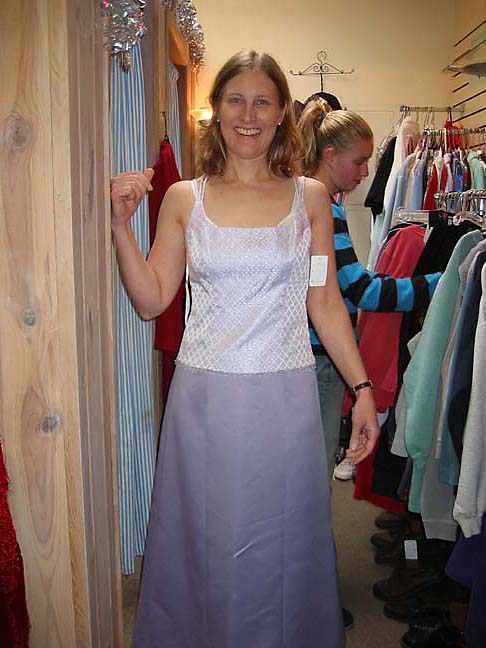 Maren in a purple evening dress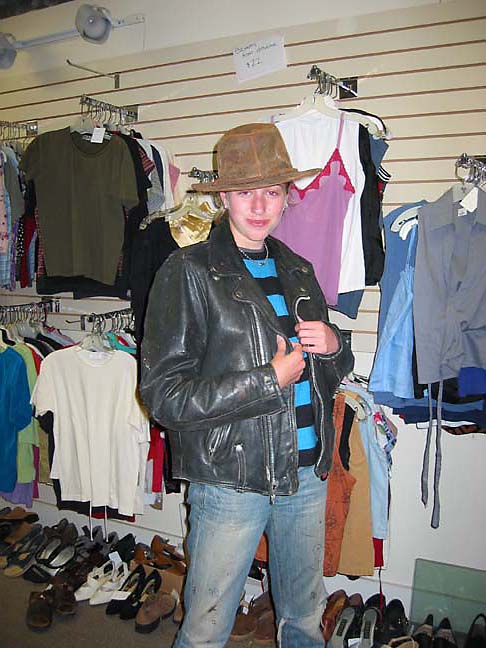 Brita in a very cool leather jacket and hat
---
We drove out to Mount Constitution and took a hike along the way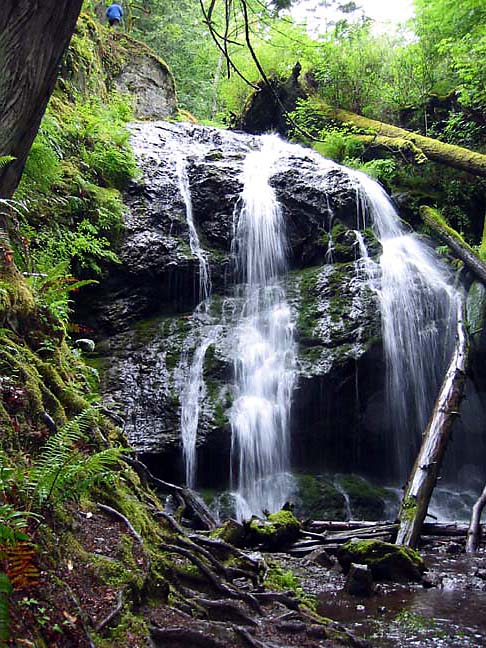 Cascade Falls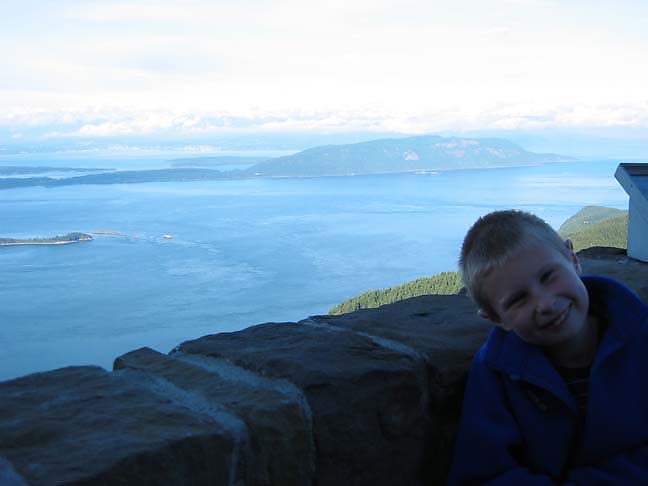 Bryden on top of the tower on Mount Constitution
---
We also stopped by the studio of Anothony Howe. He creates fabulous kinetic scupltures - you can see some animated gifs on his website.


Sculpture suspended in the trees that looks like exploding metal shards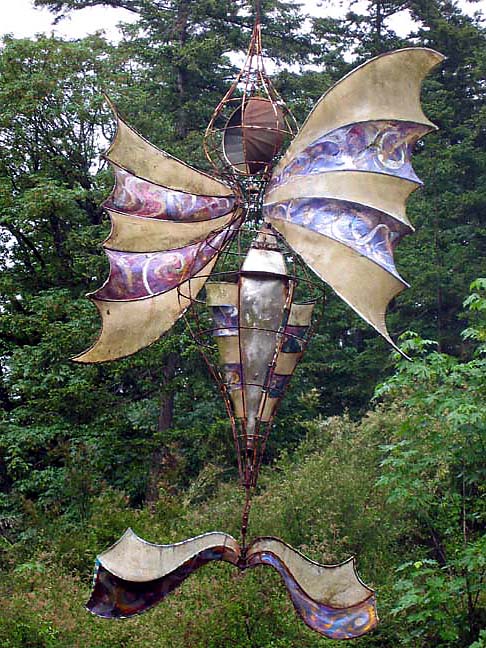 A multi-colored metal butterfly
---
We also took our yearly jaunt up to Penticton in May. We traveled up with the James and the MCCrackens, and Bryden, Gavin, Lizzie, Ian, Kelly and Caitlyn had a blast - there was so much to do...
---
There was bike riding...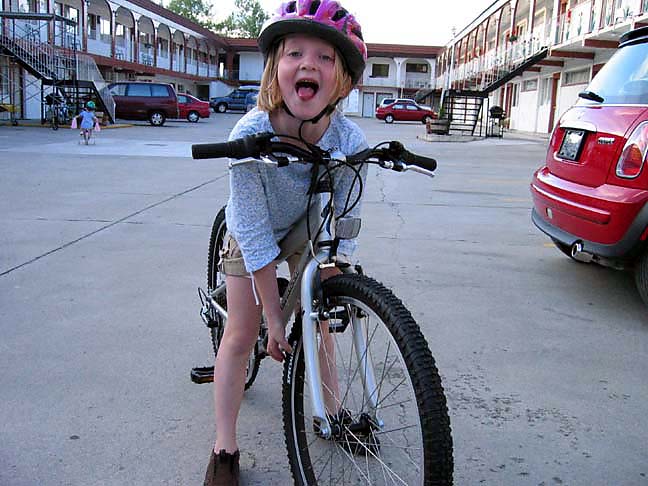 Kelly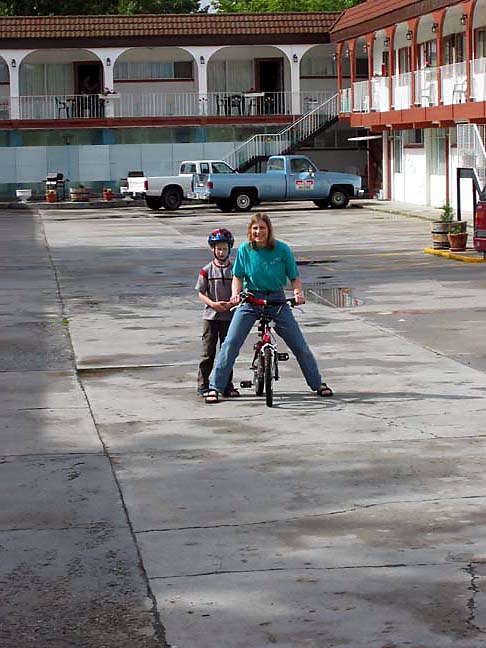 Maren - wait a minute - she's on Bryden's bike!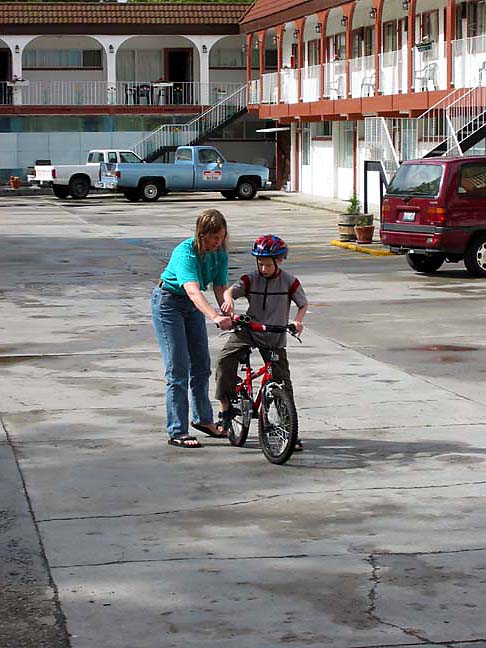 Bryden (that's better!)

And Rob - on Kelly's bike! Nice pink bike helmet, Rob!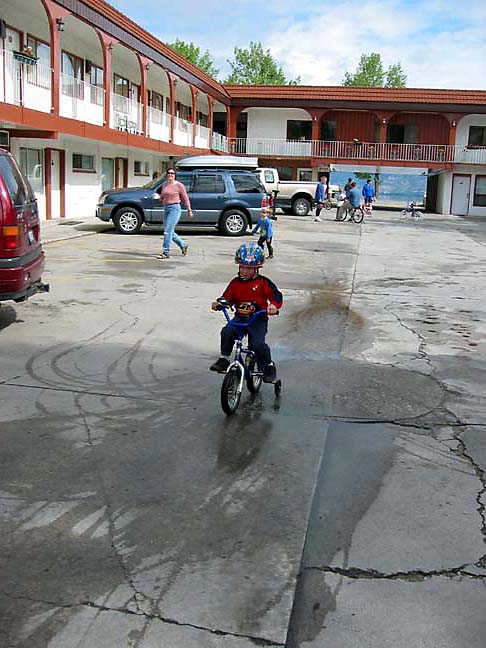 Gavin - this will be his last summer on training wheels
---
There was plenty of time to play on the beach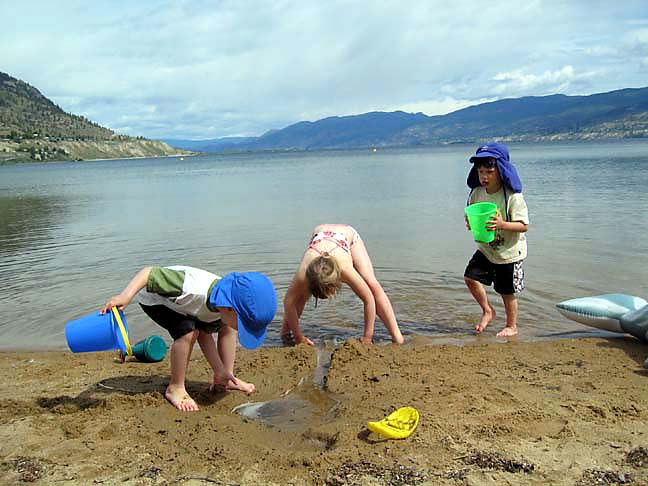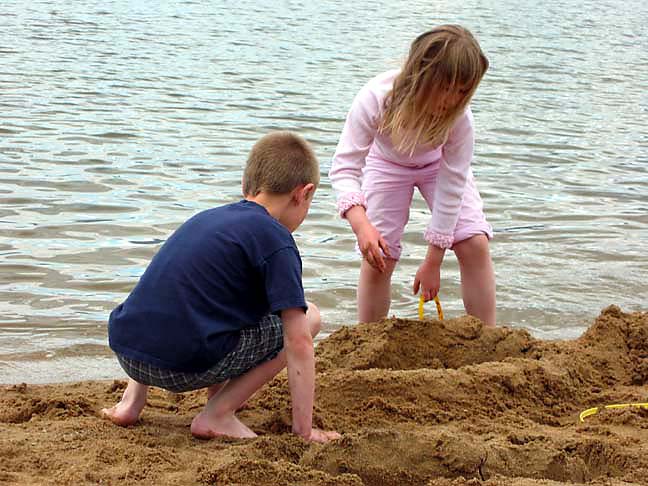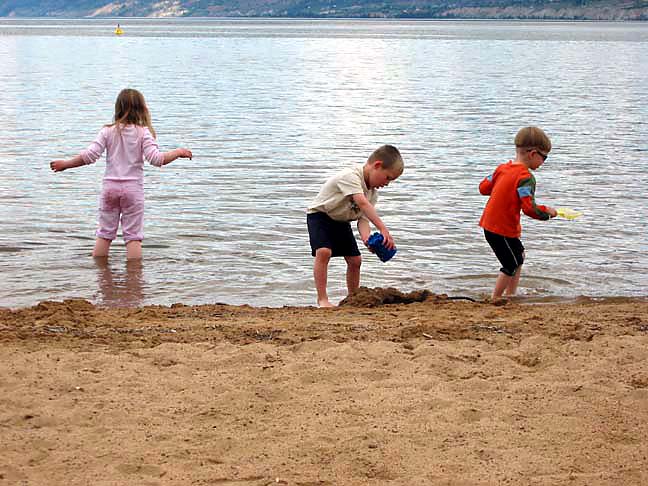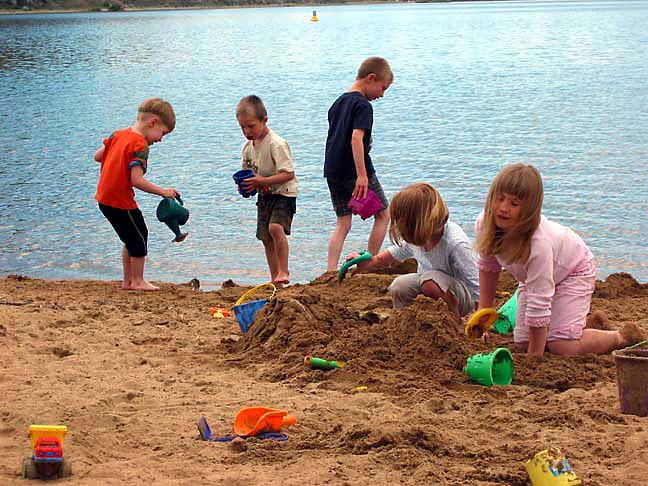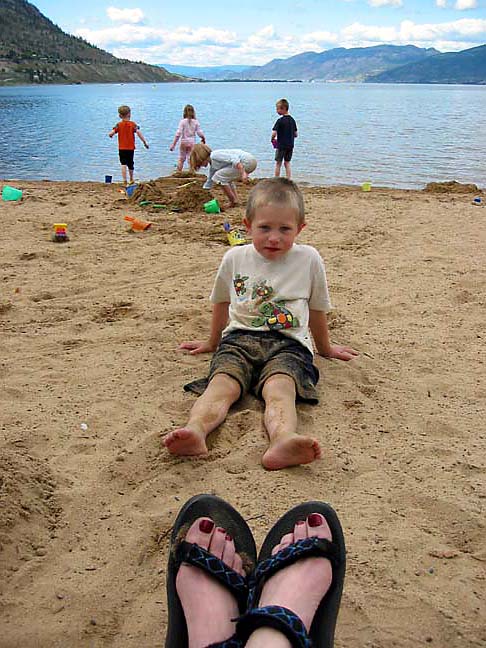 Hey mom, guess what I can make?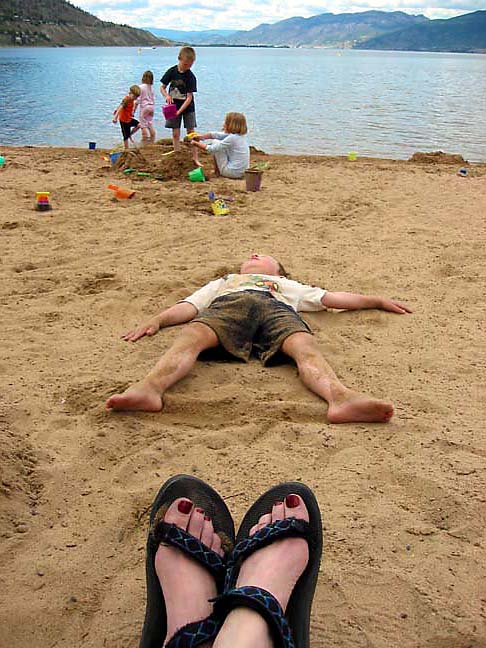 A sand angel! (Kinda like a snow angel, but harder to get cleaned up afterwards!)
---
There was was a playground just across the street from us that was a big hit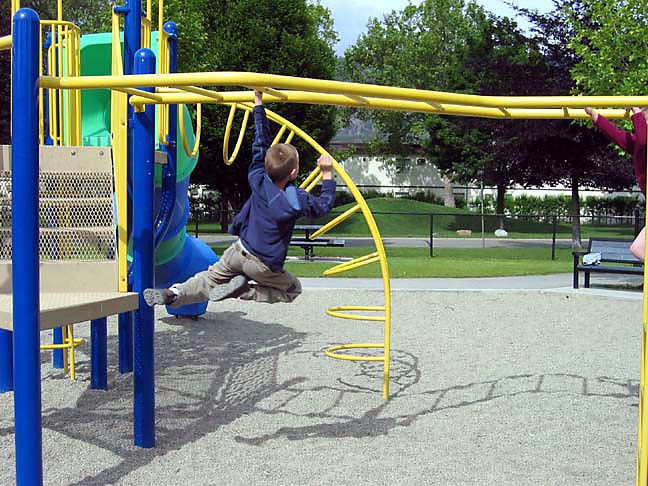 Bryden doin' the monkey bars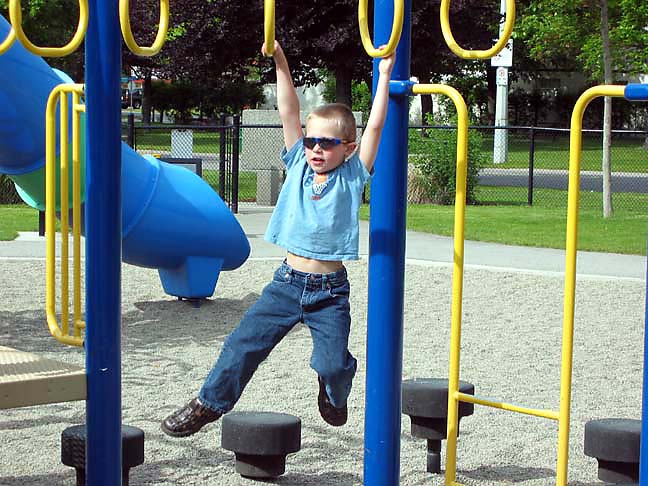 Gavin can do them too!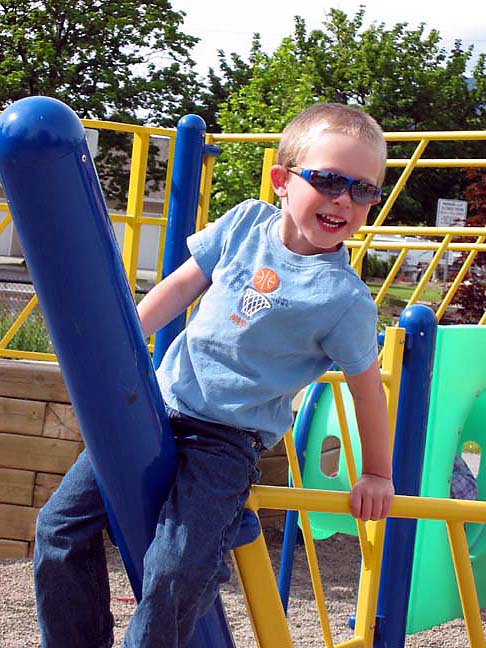 Gavin hangin' out and lookin' cool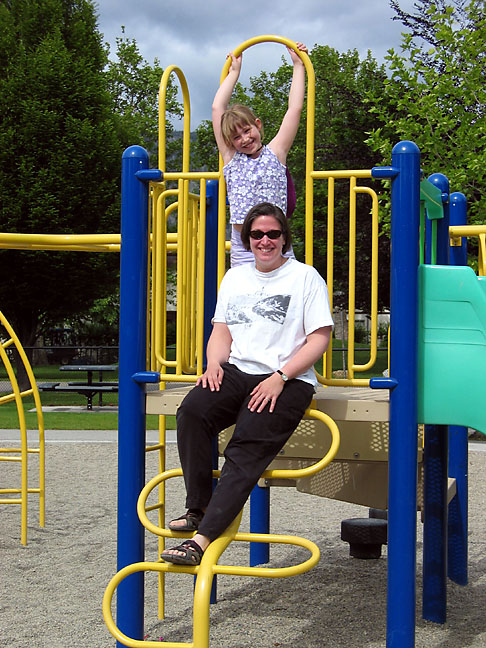 Cathy and Lizzie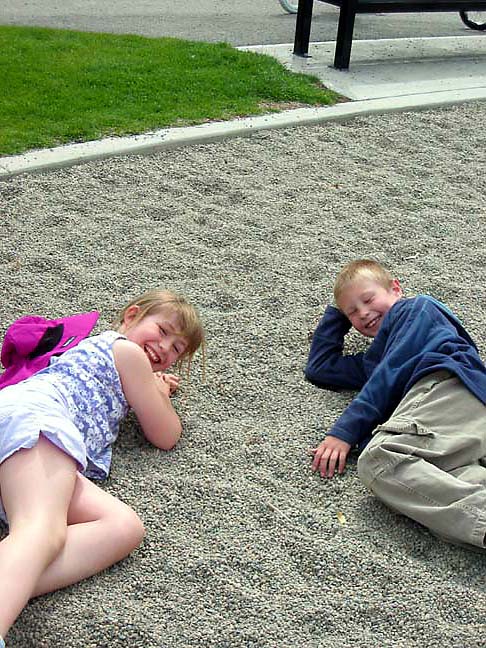 Lizzie and Bryden, just chillin'
---
We played miniature golf...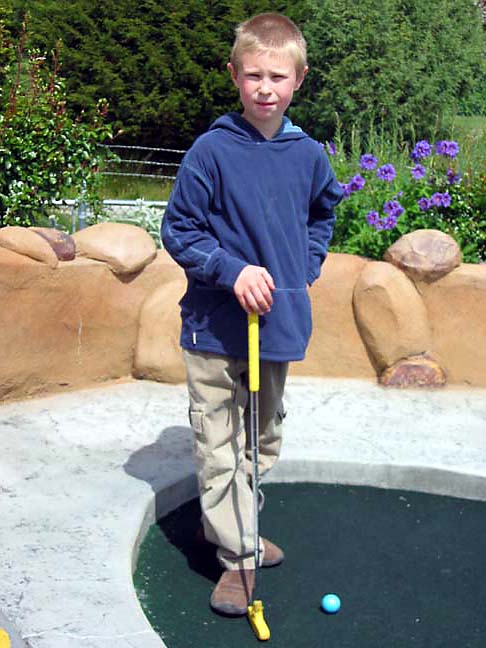 Bryden, getting serious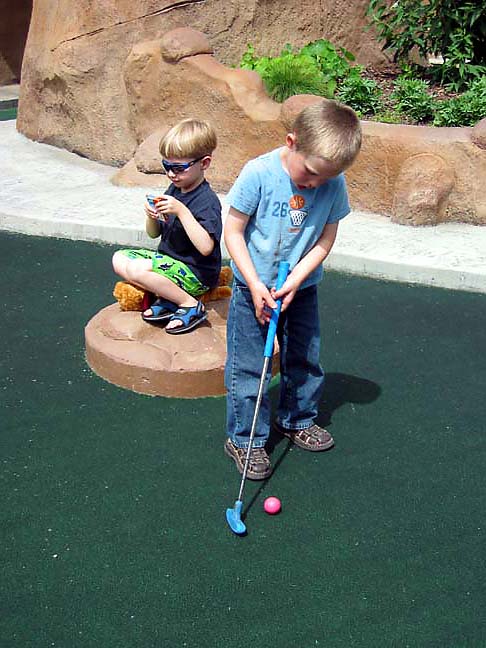 Gavin, kind of serious (but with his sandals on the wrong feet)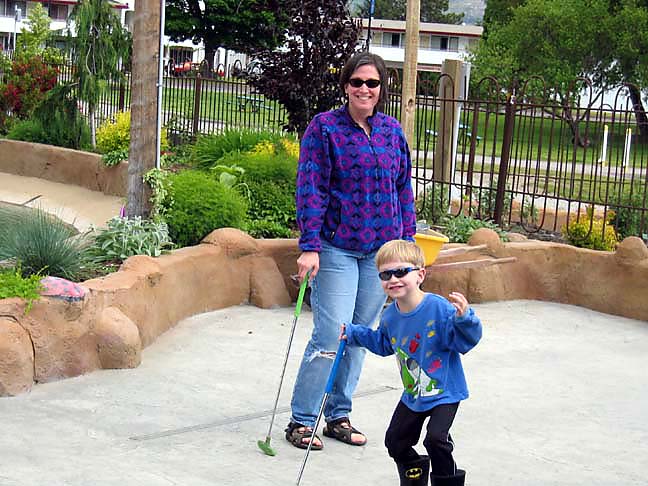 And Ian not being serious at all!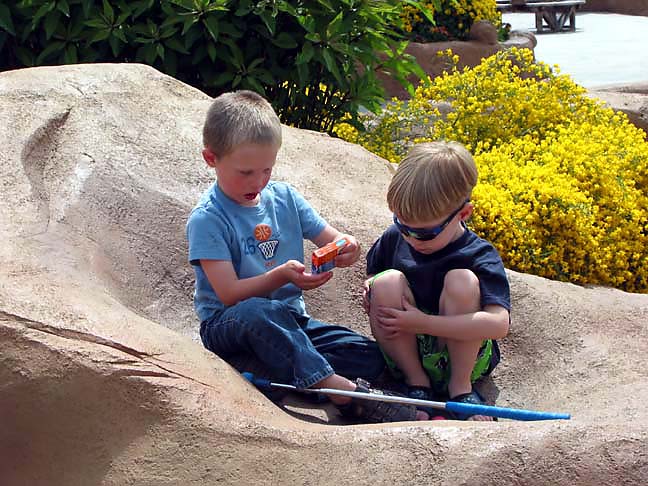 Snack time is very serious for Gavin and Ian - golfing can tire a guy out!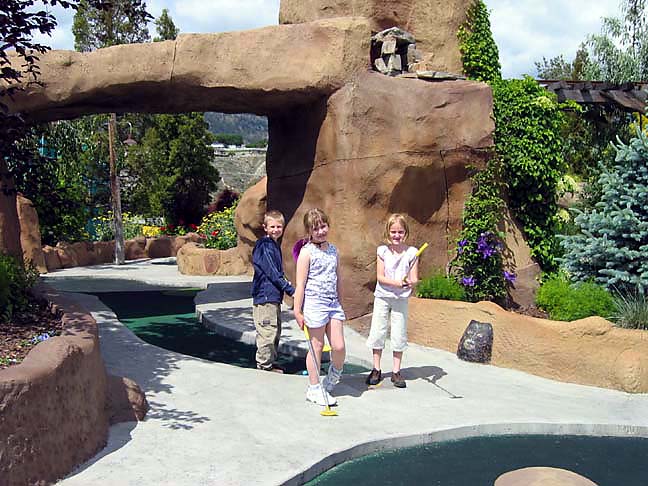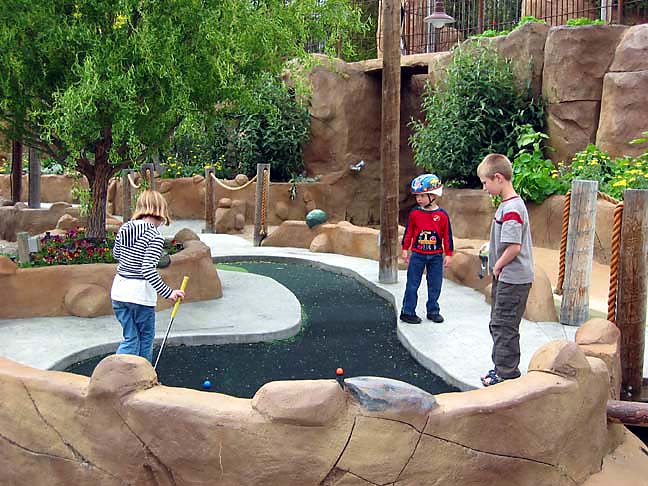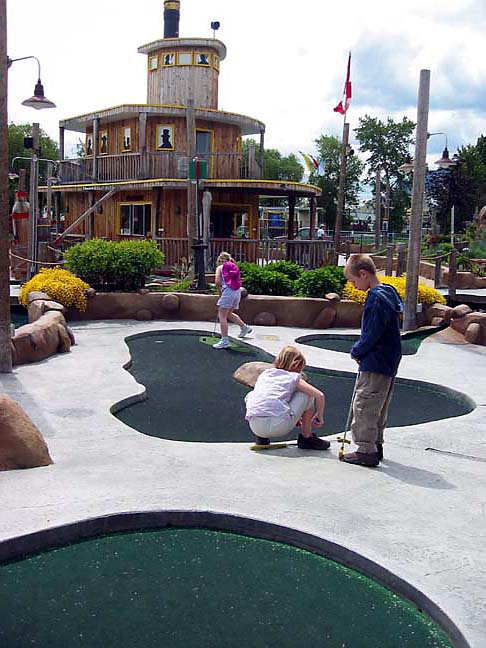 ---
We went to Bryden's favorite museum, the S.S. Sicamous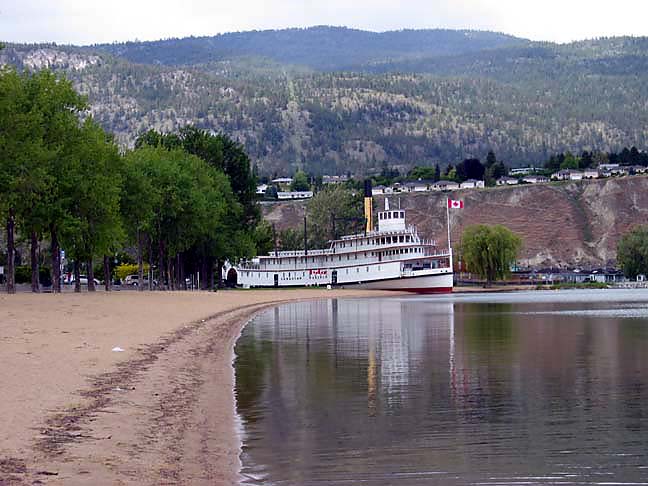 It's an old steamship that's been converted into a museum - Bryden always saves some of his allowance to donate to them.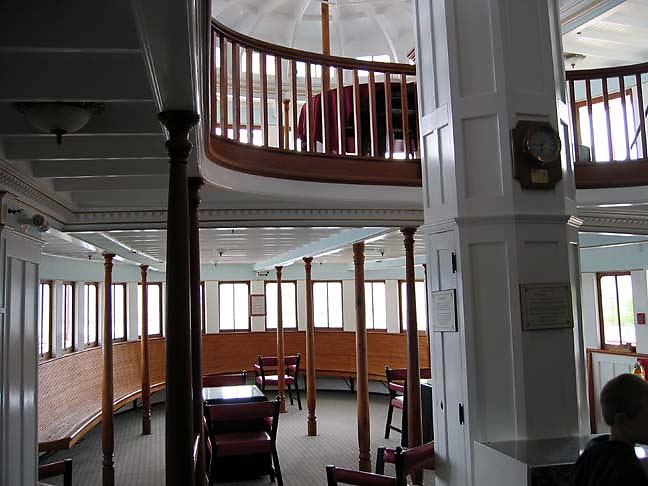 The interiors have been refinished to look like they did when the ship was making regular rounds up and down Lake Okanogon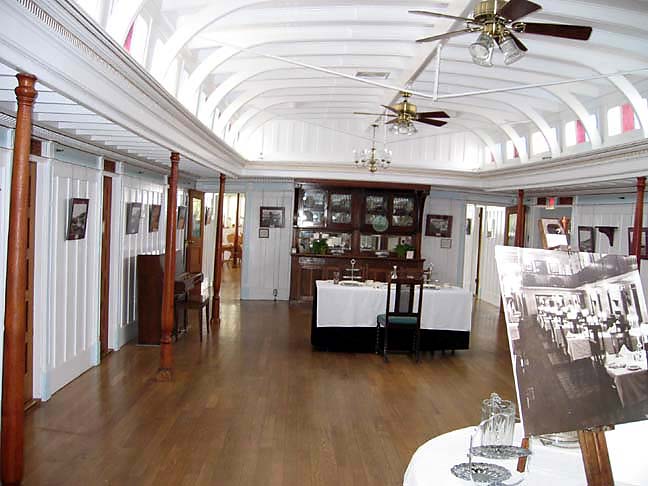 They use some of the larger spaces for putting on plays, or having parties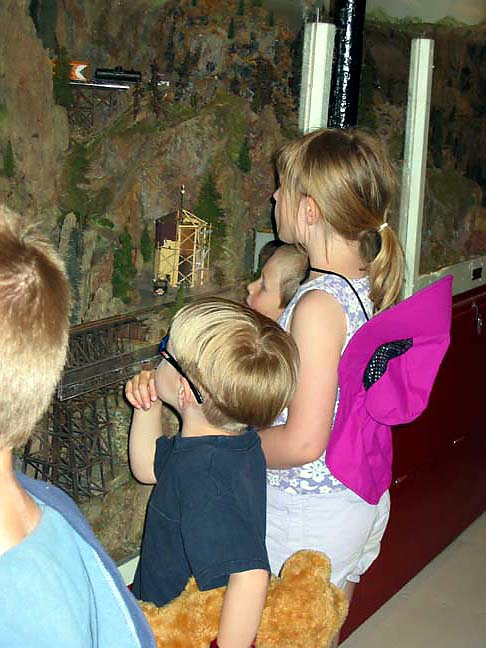 The kids really like the HO train layout they have there...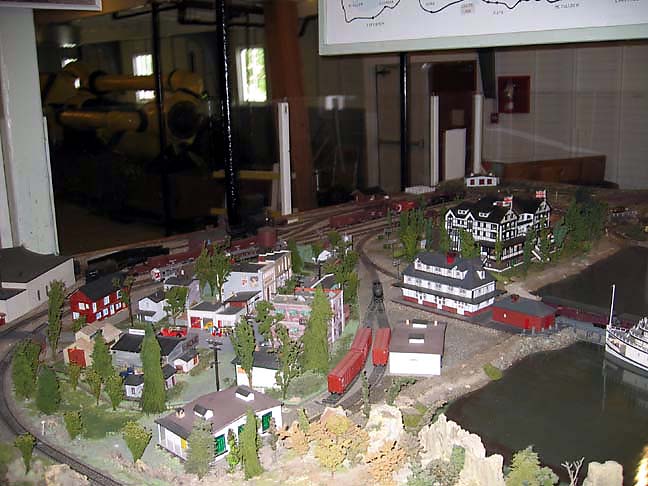 It's a scale model of the Kettle Valley railroad, with Penticton right in the middle - very nicely done!
---
We did manage to get some climbing in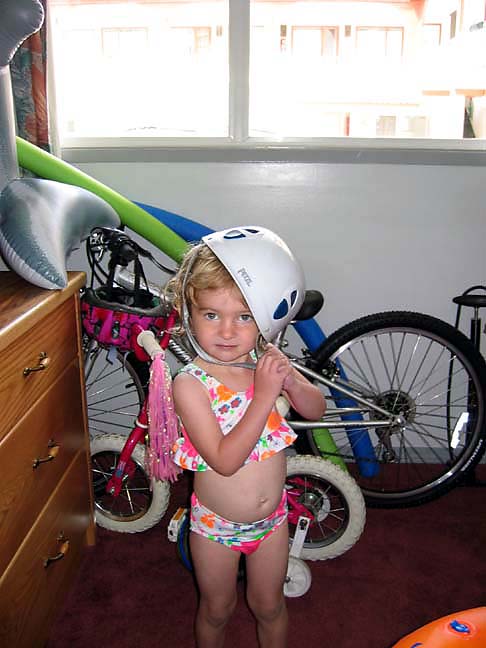 Caitlyn wanted to come along - maybe next year!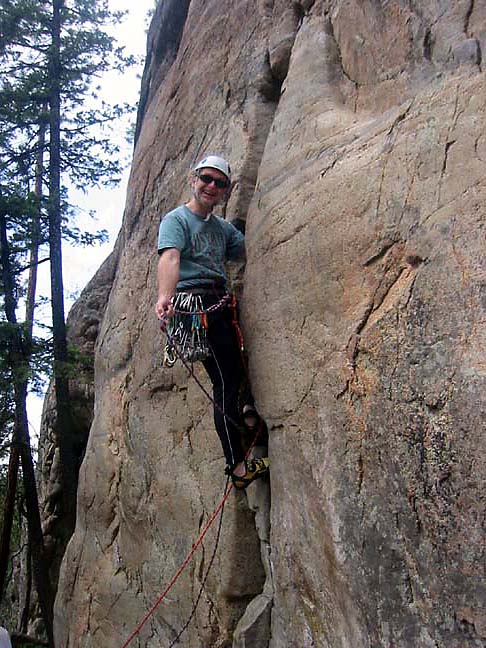 The dads spent a day at Chatsworth Edge, working on their trad leading. Here's Rob...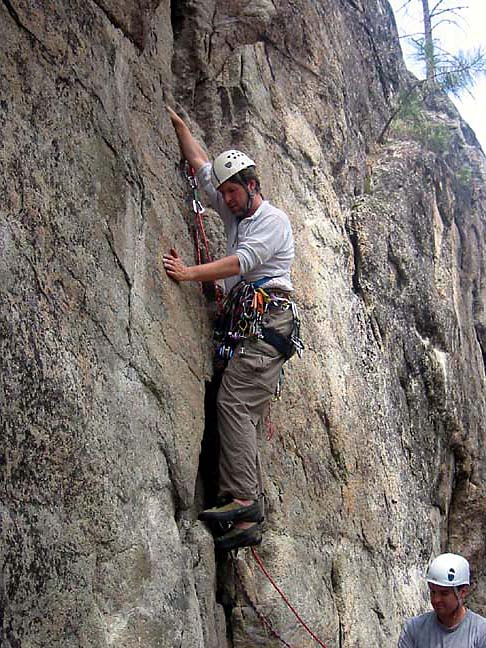 And Matt...
---
Maren and I took Bryden out for a morning as well - he's becoming just a regular cragging partner, with all his own safety gear, and the knowledge to use it correctly.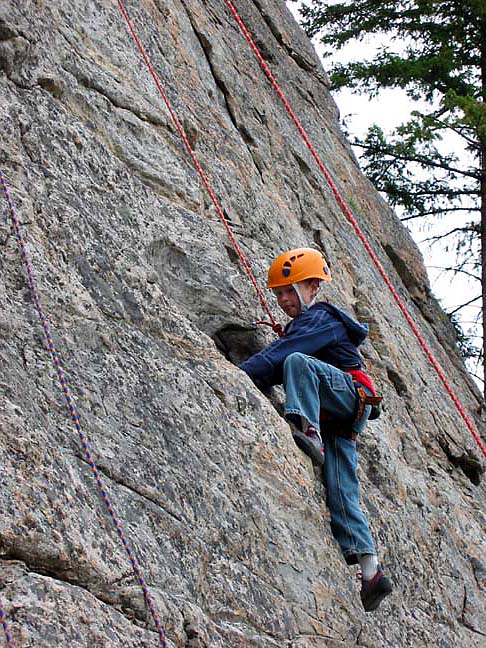 He's climbing quite well...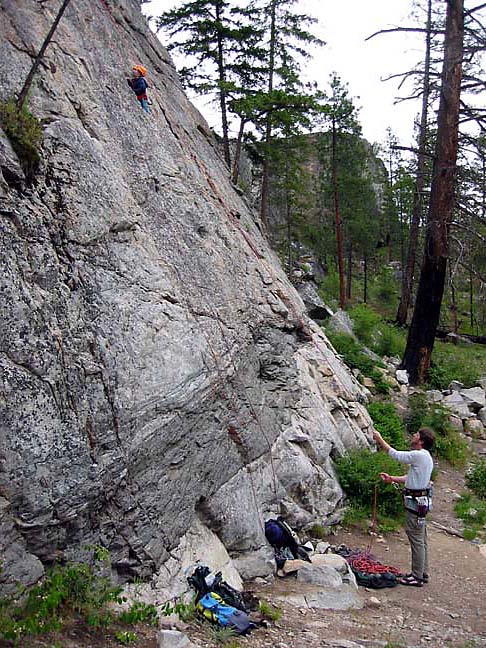 And doesn't get worried on big (for him!) walls...
---
We did some other fun stuff...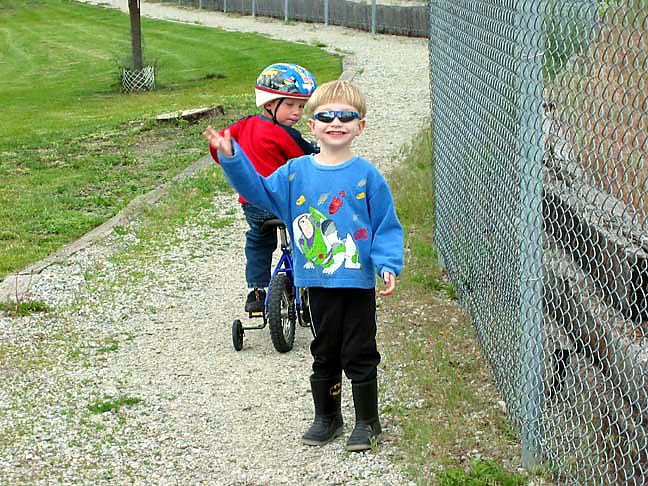 Gavin and Ian on a little trail we walked and rode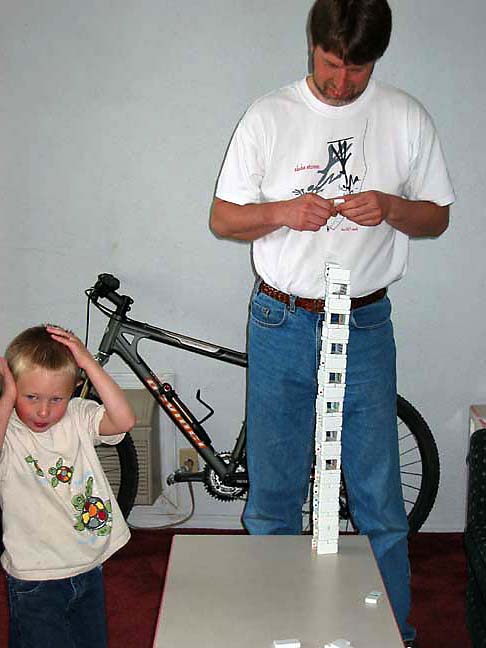 Matt built a really tall domino tower - Gavin was sure it was going to crash (it didn't!)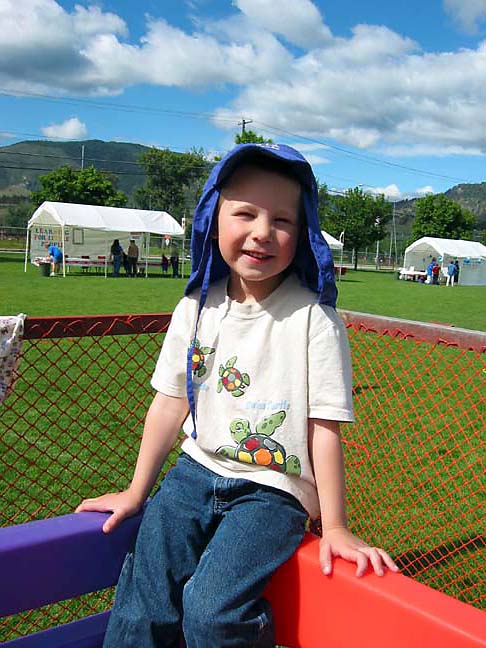 We went to a children's carnival, and Gavin had fun climbing on the playground equipment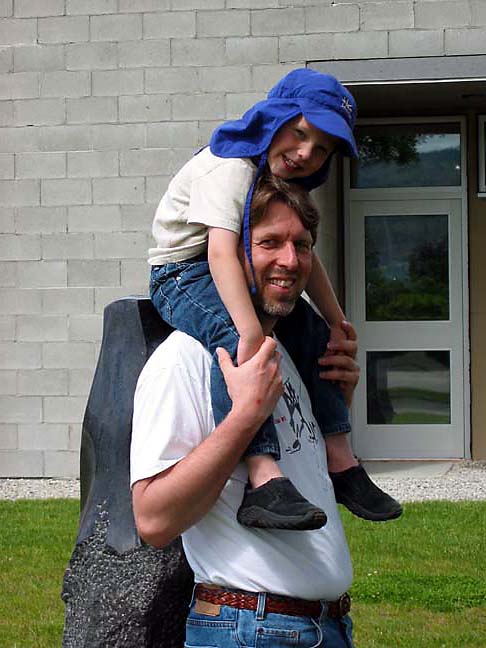 But when it was time to go home, he needed a ride!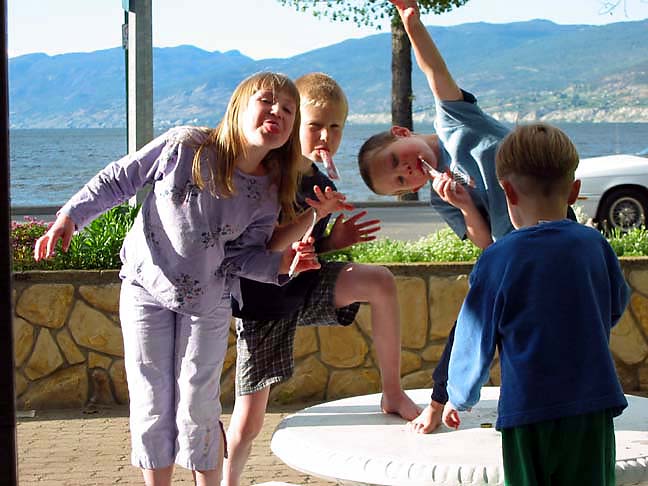 Popsicles on the veranda turned into a dancing exhibition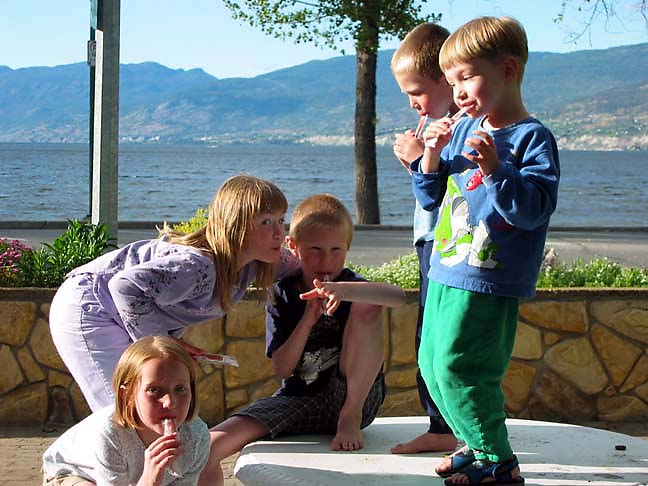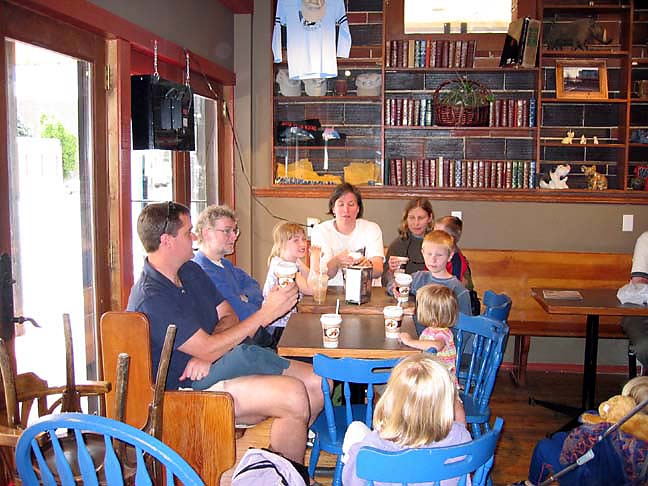 We did make time for coffee (cocoa for the kids) at Hog's Breath
---
We finished off the trip with root beer floats from A&W on top of Giant's Head on our way out of town...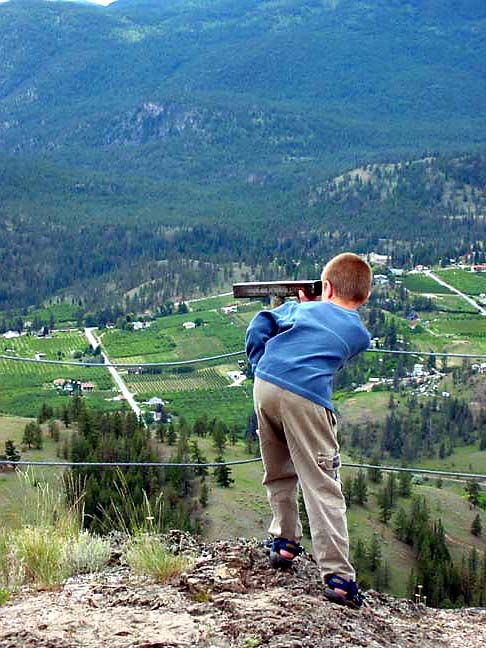 Bryden checking things out through one of the many "viewing tubes". Each tube is labeled with what you will see when you look through it, so instead of just admiring the view from the top, you can actually identify the features you're looking at.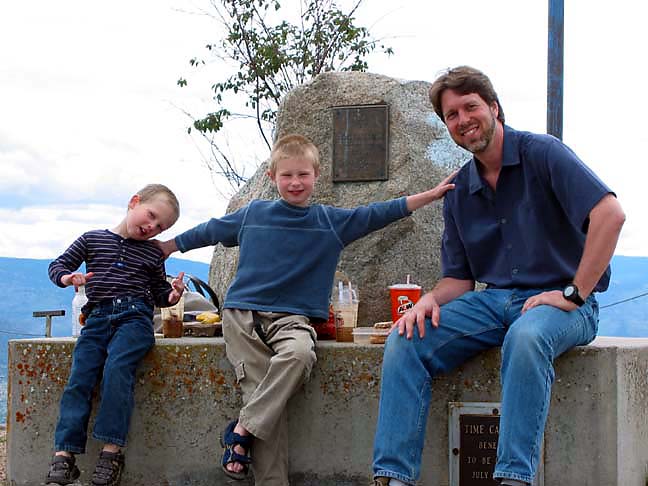 Maren's guys - Gavin, Bryden and Matt - on top of the time capsule at the top of Giant's Head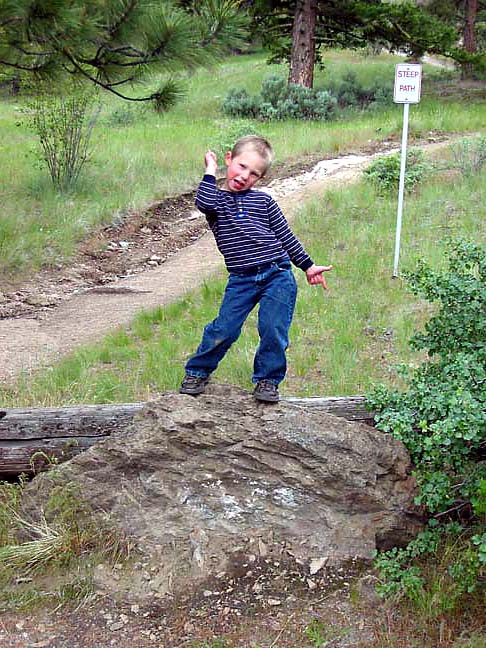 Can Gavin ham it up or what!?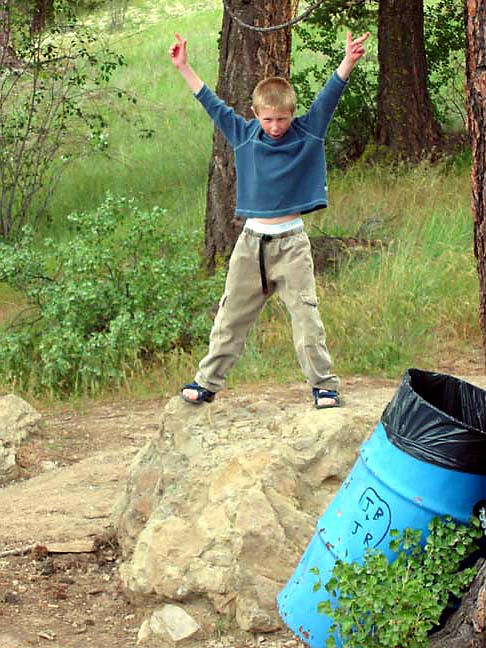 Bryden can be just as silly!
---
Last updated: August 28, 2004