July, 2003
We did another trip up to Penticton, B.C. We really like it there, and the boys are getting to know their way around pretty well. Beaches, sunshine, ice cream and climbing - not much to complain about!

I wish I were taller...

Popsicles taste good when it's hot out!

Bryden is just about done with his training wheels

Gavin is sure he can ride anywhere his big brother can (almost!)

It's the juggling daddies! Mike, Matt and Rob entertain with Gavin's assistance...

Beach time means sand castle time if Bryden's around

If it looks like a baseball bat, hit something with it!

The sand castle is coming along nicely! (That's Bryden's favorite museum in the world in the background - the S.S. Sicamous , the Canadian Inland Maritime Museum)

Riding the dolphin in the waves was fun and easy...

...the orca proved a bit trickier to control

Now it's the dozing daddies!

Even on vacation, we still like our bedtime stories
We did get a chance to go out climbing, just to prove that daddies can still do rock...


Here's Rob leading "Skunked"

And Mike following - it was a beautiful day in a beautiful place

Here I am on "Climbing with Elvis"
---
Gavin also turned three this month - just a few pictures from his parties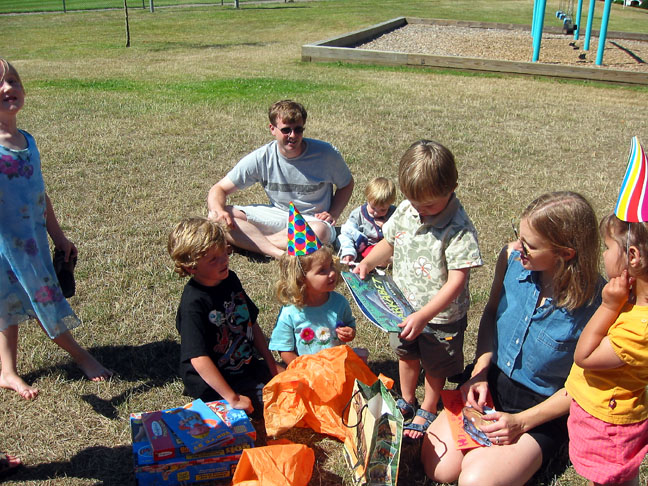 Gavin surrounded by friends and birthday presents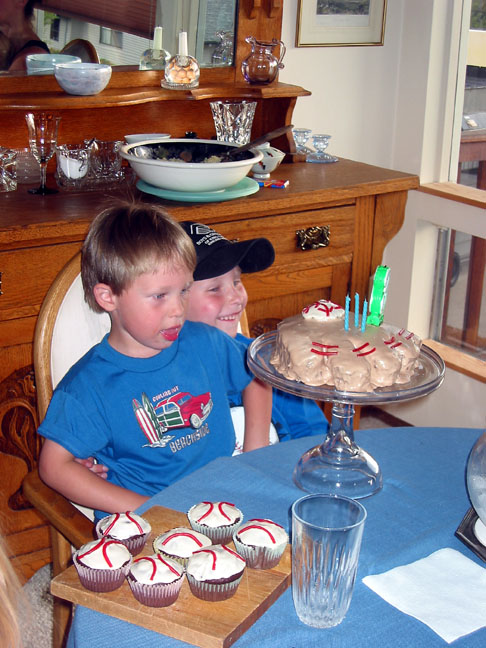 Mom made a baseball mitt cake, and baseball cupcakes - we approved!
---
We headed out to a local crag to do some rock climbing one evening and brought the boys along. Bryden wanted to try his first real outdoor rock route, a little 5.5 at a crag called the Gritscone. It took him a couple of tries, but he did it! The light wasn't the best, and not all the pics came out clear, but here's Bryden climbing his first real route!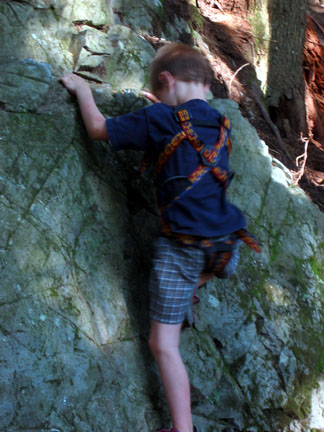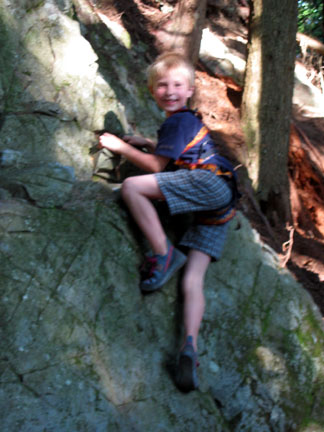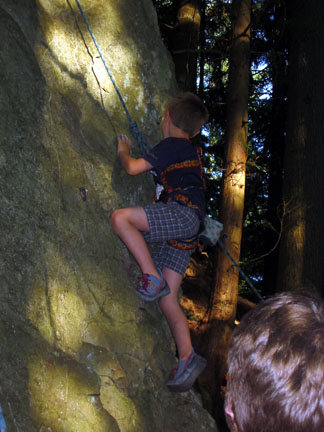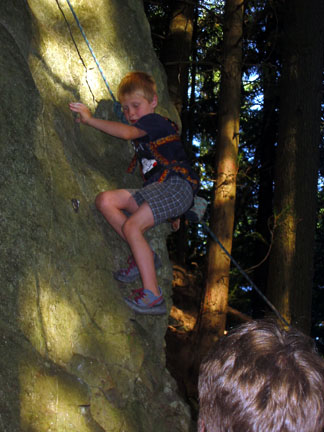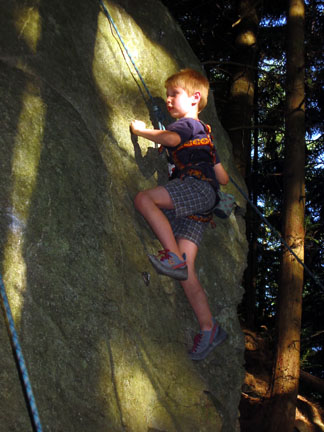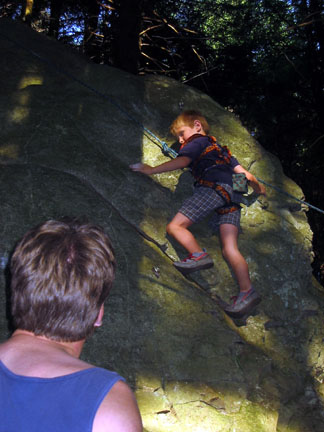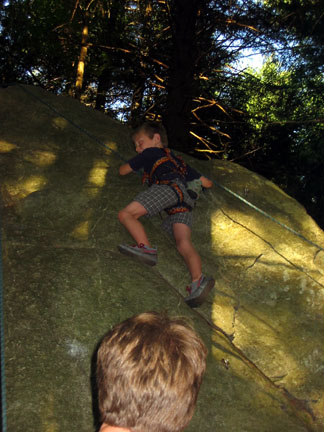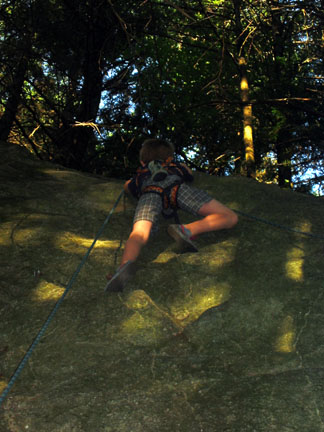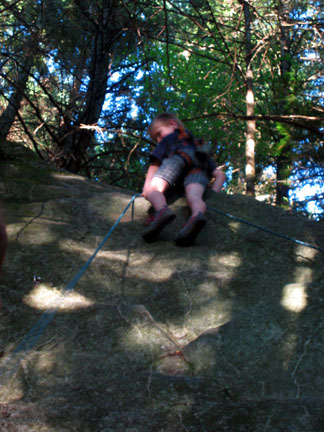 And he's up!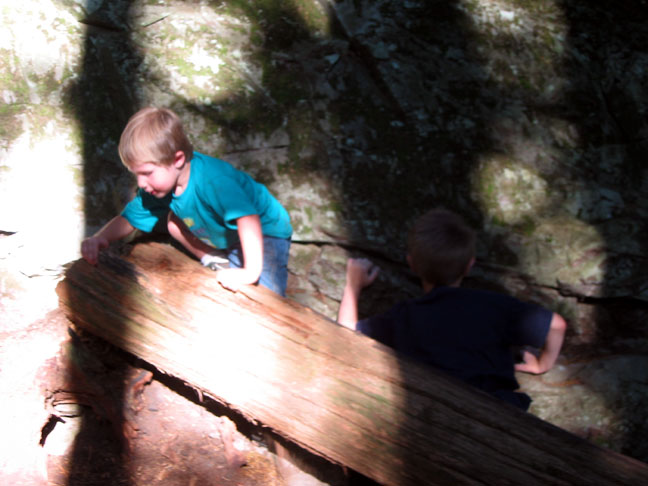 Gavin played around on the rock as well, but decided climbing fallen trees was just as much fun!

---
We took a trip up to the north coast of the Olympic Peninsula, and camped at the base of the Dungeness Spit

Tenting at Dungeness Spit

Here's the Spit at high tide - it goes out 5 miles to a lighthouse on the end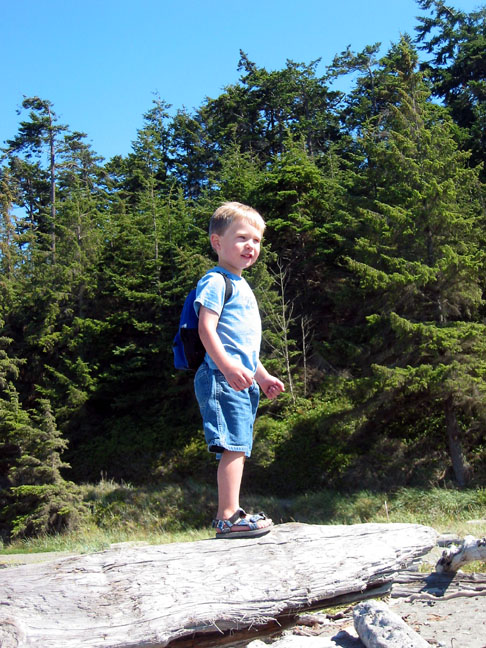 Gavin's ready to go exploring!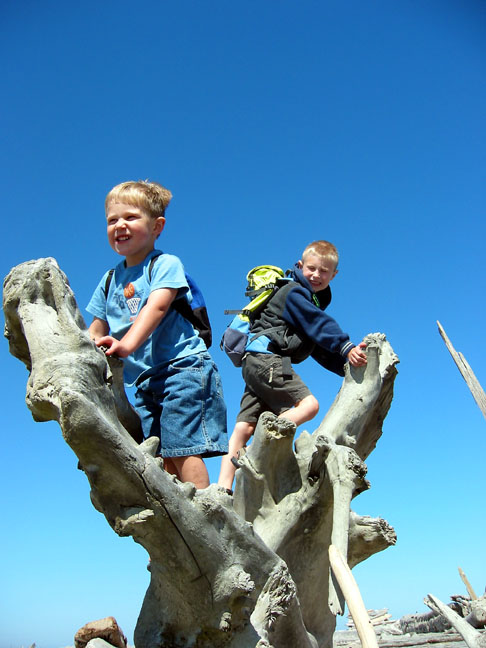 Climbing on the huge chunks of driftwood is fun!

"I'm a big boy, I do it myself..."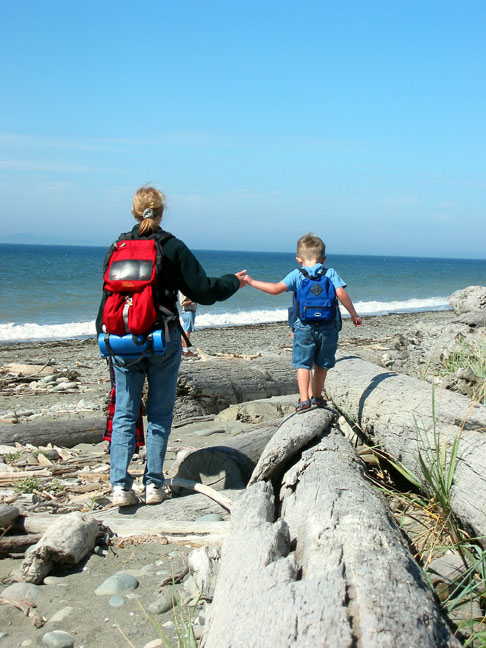 "...with just a little help from mama still!"

Hmmm - what's Kelly got in her snack pack?

A driftwood teeter-totter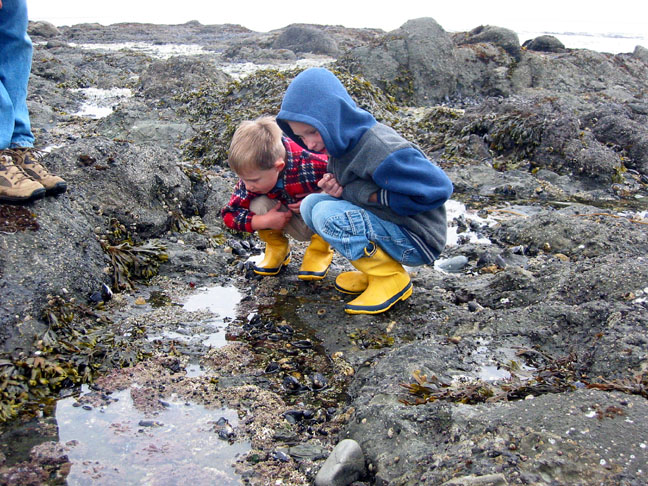 There was a low tide the second morning, so we went out tide pooling at Salt Creek Park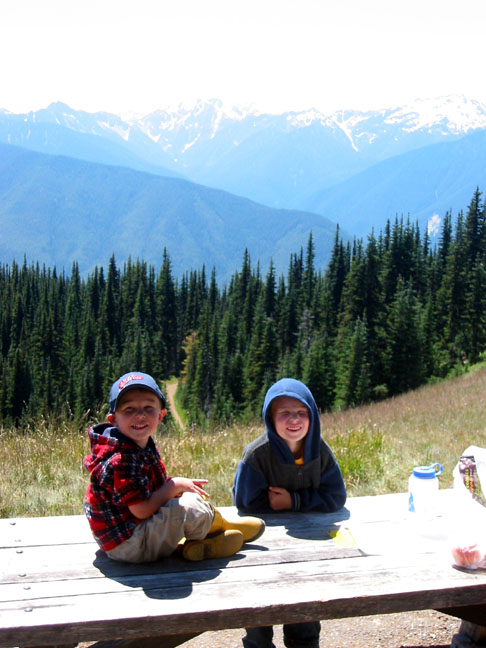 In the afternoon we headed up to Hurricane Ridge and picniced in the bright sun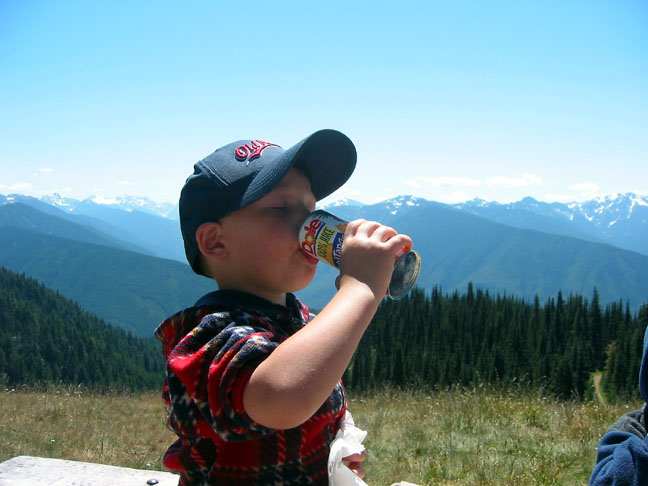 Picnicing can be thristy work!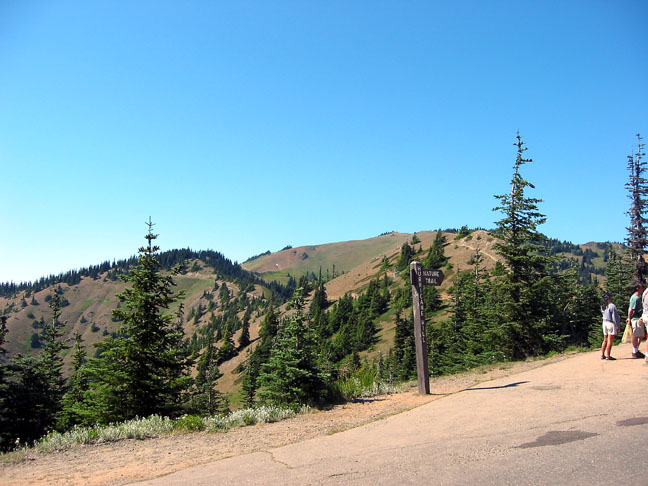 Bryden and I hiked to the top of Hurricane Hill together

The views from the top were pretty nice!

Last morning - rise and shine! (There's two boys in there - can you see Gavin?)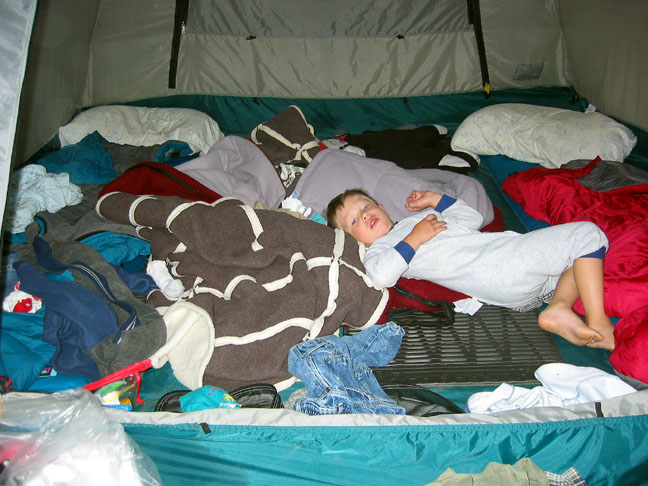 There's Gavin - the tent is plenty big to roll around in!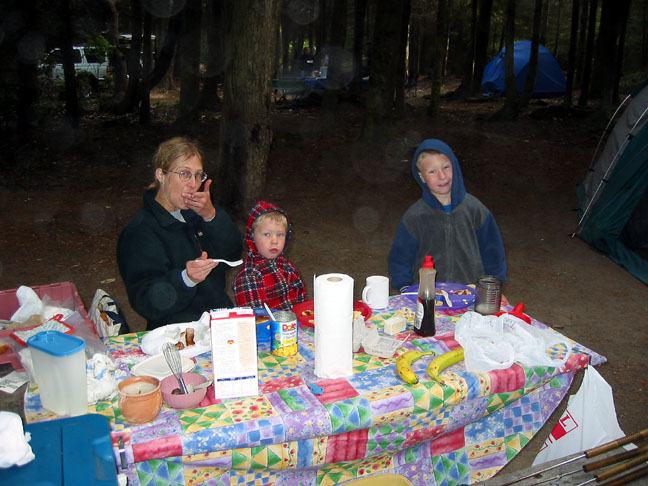 A typical car camping breakfast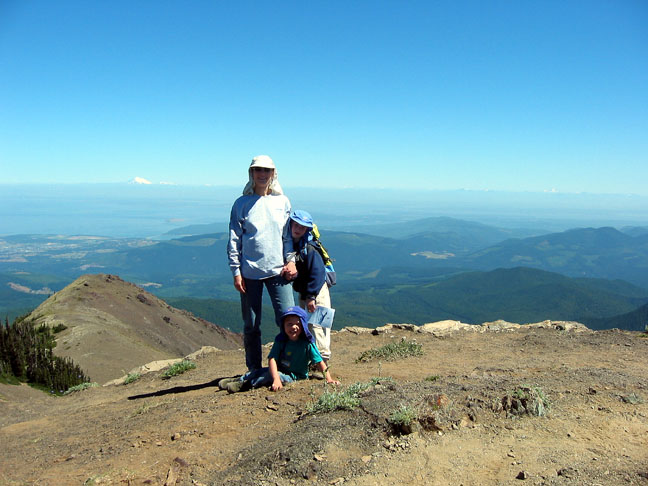 On the last day we all hiked to the top of Blue Mountain, which is at the end of the highest road in Olympic National Park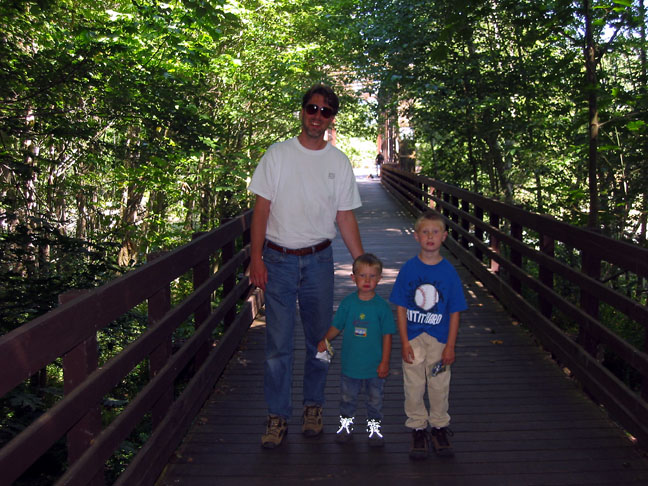 We had lunch at a cool park in Sequim, the Old Railroad Bridge park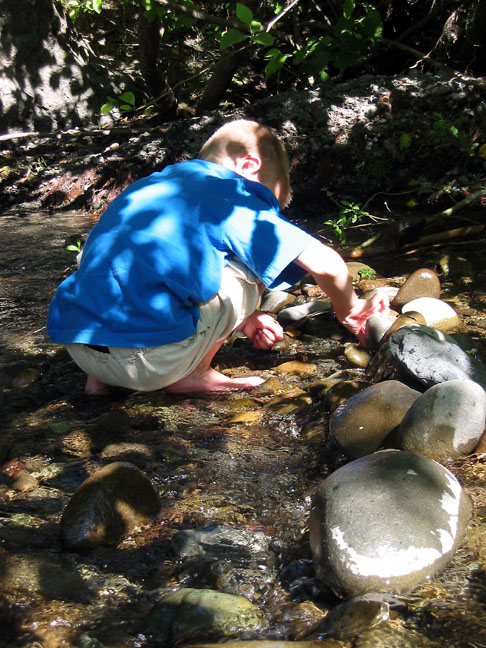 After lunch, we walked down the trail to the Dungeness River, and built a dam

More playing in the river

Brrr - this water is cold!

Hey daddy, what's over here?
---
Last updated: September 2, 2003